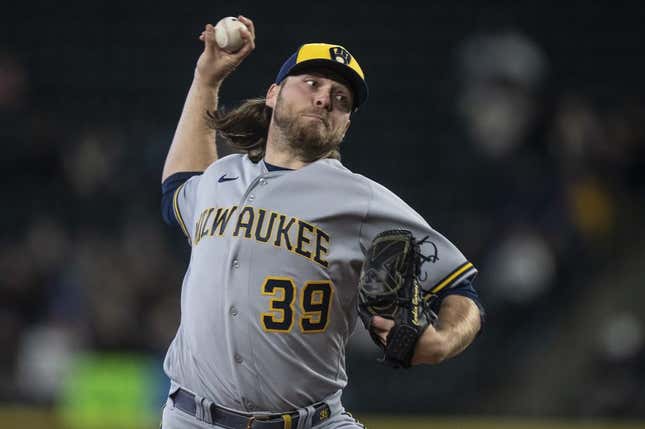 The Milwaukee Brewers hope ace right-hander Corbin Burnes can rediscover his form on Saturday night when they host the Los Angeles Angels
Chris Paul should ride the bench next season | Keep it a Buck(et)
Burnes (2-1, 4.55 ERA) will be opposed by Reid Detmers (0-1, 4.15), as the Angels will start a left-hander in each of the three games of the series. Burnes has yet to face the Angels in his career, while Detmers has never pitched against Milwaukee
Milwaukee posted a 2-1 victory in the series opener Friday night following Rowdy Tellez's RBI single in the eighth inning. Devin Williams preserved the win with a perfect ninth for his fourth save of the season.
Williams has not allowed a run this season in nine innings in nine appearances. The Brewers' bullpen has not allowed a run over its last 17 innings
Burnes' ERA is more than two runs higher than his 2021 Cy Young season, when he posted an 11-5 record with a 2.43 ERA. He was 12-8 with a 2.94 ERA last season, with opponents batting just .197 against him.
Burnes did not get a decision in his last start, allowing three runs (two earned) on five hits with three walks in five innings in a 12-5 loss to the Boston Red Sox on Sunday.
"I just couldn't get ahead. After, I think, those first two innings, it became apparent they were going to try and wait me out and get me out of there as quick as they could," Burnes said after his last start. "So just wasn't getting ahead, wasn't attacking early. Just put myself in bad spots, and the walks definitely hurt us today."
The left-handed-hitting Tellez also singled in the second inning and drew a walk Friday night against left-handed pitching. Over his last 14 games, Tellez is batting .319 (15-for-47) with a double, six homers, 15 RBIs, seven walks and nine runs.
"I'm just not trying to do too much," Tellez told Bally Sports afterward about his approach to facing left-handers. "Stay in the middle of the field and just get a pitch I can handle. It's a tough game, so little things matter."
Tellez had 414 at-bats last season against right-handed pitching, hitting .222 with 31 of his 35 homers. He had just 115 at-bats against lefties, hitting .209.
Detmers has allowed two runs in three of his four starts. He allowed two runs on a pair of solo homers in 5 2/3 innings in his last start but did not get the decision in the team's 4-3 win over the Kansas City Royals.
Left-handed reliever Jose Quijada, who has four saves, was placed on the 15-day injured list Friday with a sore elbow. Quijada faced five hitters in one-third of an inning Thursday in an 8-7 win over Oakland, allowing two runs (one earned) on three hits.
"I felt real well yesterday but just woke up today and my elbow felt weird," Quijada said via an interpreter after Friday's game. Quijada said he had an MRI Friday and was awaiting the results.
The Angels are calling up right-hander Chris Devenski from Triple-A Salt Lake. Devenski was 0-0 with a 4.00 ERA in seven relief appearances at Salt Lake, allowing four runs on hits in nine innings with nine strikeouts
Devenski has appeared in 246 major league games, all but seven in relief, in seven seasons. He was an All-Star in 2017 with Houston, going 8-5 with a 2.68 ERA in 62 relief appearances, before being slowed by injuries.
"He's throwing great," Angels manager Phil Nevin said. "A lot like what we've seen in the past in his All-Star years, and a lot of what we saw in spring training. Locating well. His velo's up and a really good changeup.
--Field Level Media