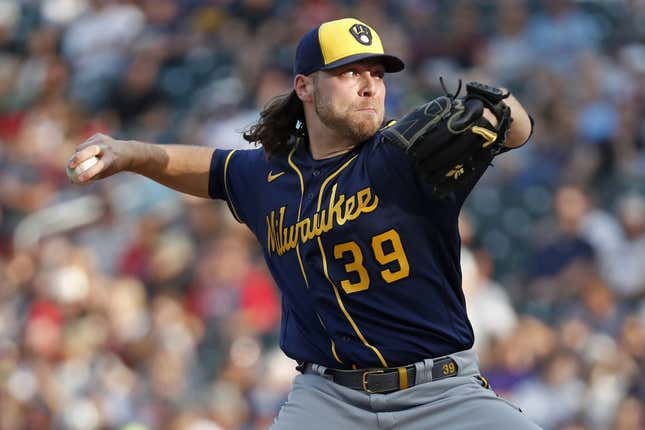 National League divisional leaders will clash on Monday night in the first game of a three-game series as the Milwaukee Brewers host the Arizona Diamondbacks
How running an NFL team is like running a restaurant | Chef Emeril Lagasse
Milwaukee rallied on Sunday, riding a four-run eighth inning to a 5-2 win to complete a three-game sweep of the Pittsburgh Pirates. The big inning included a two-run single from Luis Urias off of Pirates closer David Bednar.
"I've been struggling at the plate, (so) right now I'm trying to keep it simple," Urias told Bally Sports Wisconsin in his postgame interview. "My teammates did a good job, and we got the series."
Securing the series sweep was important for the Brewers, who entered the series with their NL Central counterparts having lost six straight and fallen to .500 for the season
Milwaukee will look to continue that momentum against a breakout Arizona team that is setting a surprising pace in the NL West.
Despite losing 12-3 to Cleveland in Phoenix on Sunday, the Diamondbacks are 10-6 in June and are 3 1/2 games ahead in the West
"We'll just keep pressing on. We're playing good baseball right now. We've just got to trash that game and move on," Arizona manager Torey Lovullo said in his postgame press conference.
The Diamondbacks played Sunday without second baseman Ketel Marte, who has multiple hits in three of his last five contests
Lovullo said he wanted to give Marte a rest with the Diamondbacks heading into "a stretch of games that are very important.
Right-hander Corbin Burnes (5-4, 3.44 ERA) will start for Milwaukee on Monday, going against the Diamondbacks' Merrill Kelly (8-3, 3.04) for the second time this season
It will be Burnes' first home appearance since he threw eight shutout innings in a win over Baltimore on June 7, when he gave up only two hits and struck out nine.
Burnes returned to the mound on Tuesday and struck out eight while giving up three runs in six innings in a no-decision at Minnesota. It was his third no-decision in four starts since he lost three of four starts from May 5 to 22.
Burnes is 2-0 with a 1.90 ERA in four career starts against Arizona. The most recent was an eight-inning, three-hit performance in which he did not allow a run in Phoenix on April 11.
That 7-1 Milwaukee victory that day was the team's only win in the three-game series. The Diamondbacks have scored at least two runs in all but two games since then
Kelly, a right-hander, will start the opener of a seven-game road swing for the Diamondbacks. They will travel from Milwaukee to Washington for a makeup game from a June 8 postponement, and then to NL West counterpart San Francisco for three games over the weekend
He has not lost in his past nine starts, with two no-decisions. One of those was in his most recent start, when he allowed three runs on three hits and four walks in six innings of his team's 4-3 loss in 10 innings on Wednesday vs. Philadelphia in Phoenix.
Kelly is 2-2 with a 3.32 ERA in seven career appearances, all starts, vs. Milwaukee. He took the loss against Burnes on April 11, allowing three earned runs while and striking out seven in six innings.
--Field Level Media