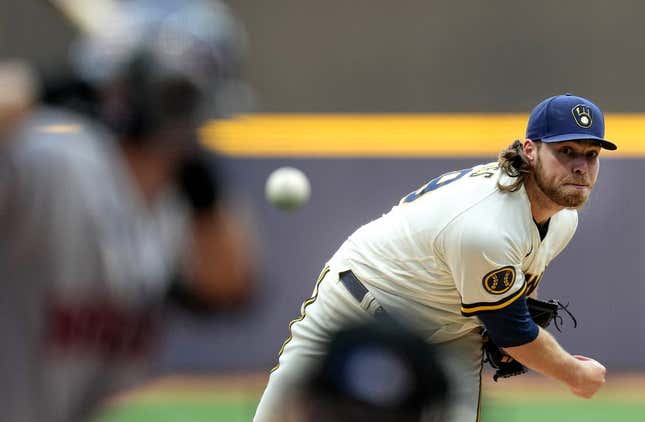 The San Francisco Giants and Milwaukee Brewers are both hoping for a positive report on the health of Brewers shortstop Willy Adames before they take the field Saturday afternoon to continue their four-game series
Will South Beach Flu give the Heat home court advantage? | Keep it a Buck(et)
The visiting Giants won the first two matchups 5-0 and 15-1, the latter occurring Friday night in a game in which Adames, watching the Brewers bat from the dugout railing, had to be taken to a hospital after getting struck in the head with a line drive hit by teammate Brian Anderson
More than two hours later, after watching his team give up 19 hits and the second-most runs it has allowed this season, Brewers manager Craig Counsell was relieved to pass along what he labeled "good news" from the hospital
"He was alert and responsive the whole time. No fractures," Counsell said, noting that Adames was going to be kept in the hospital overnight as a precaution. "Obviously he's in pain, but overall, not bad news considering how bad it looked."
Both teams figure to need all hands on deck for a pitchers' duel Saturday between right-handed staff aces Corbin Burnes (4-4, 3.97 ERA) of the Brewers and Logan Webb (3-5, 2.91) of the Giants
The All-Star hopefuls will be going head-to-head for the second time in their careers. Both pitched brilliantly in their first encounter when the Giants won 2-1 in 10 innings in Milwaukee in August 2021. Burnes limited the visitors to one run and four hits in seven innings, while Webb was nearly a mirror image, allowing one run and three hits in six innings
Burnes not only will be facing a hot club Saturday, but will take the mound riding a two-game losing streak in which he was roughed up for eight runs and 15 hits over 11 innings by the St. Louis Cardinals and Houston Astros.
The 28-year-old began May with a 6-4 loss at San Francisco in which he served up a first-inning home run to J.D. Davis among five runs allowed (just two of which were earned) in six innings. Burnes has faced the Giants 13 times in his career, six times as a starter, and compiled a 3-2 record with a 2.35 ERA
Davis was among San Francisco's big hitters Friday with three hits, including his ninth homer. Patrick Bailey (four), Mitch Haniger (three) and Mike Yastrzemski (three) also all had three or more hits in the club's ninth win in its last 11 games, this one lifting the Giants over .500 for the first time this season
San Francisco manager Gabe Kapler wasn't in much of a celebratory mood afterward, still shaken by the Adames incident.
"Really scary moment for obviously the Brewers and our dugout as well. You never want to see a guy put in danger like that," he observed. "Super scary. Glad he's OK seemingly.
Webb has been one of the best pitchers in the National League in May, going 2-0 with a 1.30 ERA over four starts. He has nothing to show for brilliant outings his last two times out, limiting the Arizona Diamondbacks and Miami Marlins to a total of one run in 13 innings in 2-1 and 1-0 defeats.
Webb has never lost to the Brewers, going 1-0 with a 1.89 ERA in three starts
The 26-year-old did not pitch when the Giants took two of three from the Brewers in a home series earlier this month. Milwaukee's 7-3 victory came after San Francisco had taken the first two games 6-4 and 4-1
--Field Level Media