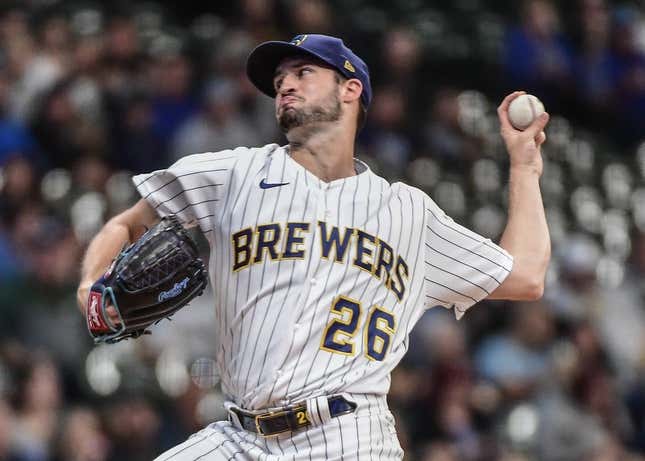 Milwaukee Brewers left-hander Aaron Ashby will undergo arthroscopic shoulder surgery on Friday and is expected to miss a large chunk of the season
'Soccer fandom is full of gatekeepers' says Ted Lasso actor Brendan Hunt
Ashby, who turns 25 next month, didn't throw during spring training and received a platelet-rich plasma injection. He told reporters he had a labral tear in his throwing shoulder.
Brewers manager Craig Counsell told reporters on Wednesday that a timetable for Ashby's return will be discussed over the weekend
"That puts him out for a significant time," Counsell said. "You won't see him until late in the season, at best."
Milwaukee was hoping Ashby would emerge as a capable starter this season. Last July, the club signed him to a five-year, $20.5 million extension with club options for 2028 and 2029.
Ashby received that deal despite being just 5-12 with a 4.47 ERA in 40 appearances (23 starts) over the past two seasons. He was 2-10 with a 4.44 ERA in 27 games (19 starts) last season when he served up 15 homers in 107 1/3 innings.
Ashby is the nephew of former big league hurler Andy Ashby, a two-time All-Star with the San Diego Padres during a 14-year career.
--Field Level Media