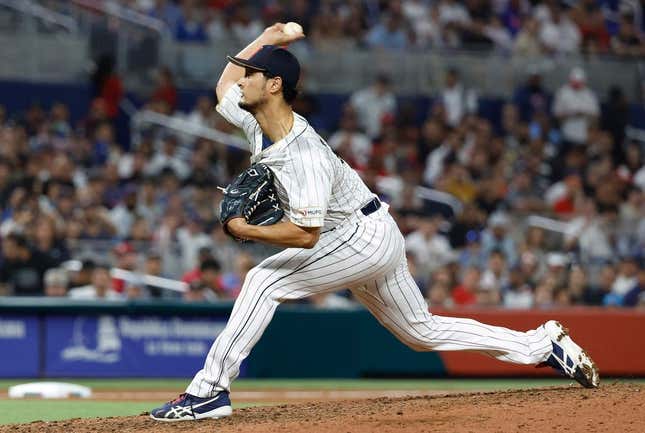 In his first two starts of 2023, Yu Darvish hasn't given up a first-inning run. But Sunday's first inning could be a real test for the veteran San Diego Padres' right-hander
Does Jimmy Butler have the best NBA Finals origin story? | Agree to Disagree
For starters, the Milwaukee Brewers have scored eight first-inning runs against the Padres while winning two of the first three games in a four-game series in San Diego
"Scoring early against San Diego has been big because they have the tools to score a lot of runs," said Brewers manager Craig Counsell. "Fast starts make things easier.
On Sunday afternoon, Darvish (0-1, 4.76 ERA) hopes to get the Padres a series split against Brewers left-hander Wade Miley (1-1, 2.45) in a match of 36-year-old pitchers
And the first inning again could be difficult because Darvish traditionally struggles in the first. Over the course of 244 starts, the first inning is his worst.
In 30 starts last season, Darvish had a 5.40 ERA in the first inning, giving up 18 runs, 29 hits and 13 walks with 36 strikeouts. Six of the hits were homers. Rival batters hit .254 off Darvish in the first inning with a .430 slugging percentage.
For his career, Darvish has a 4.24 ERA in the first inning. He has given up 42 first-inning homers and issued 103 walks. He also has 290 strikeouts.
"He's got so many pitch variations, the first inning is the time when he's sorting out what is working and what's not," Padres manager Bob Melvin said recently of Darvish
Darvish has been battling another issue this season. He spent most of spring training with Japan's World Baseball Classic championship team. Darvish, however, didn't pitch as much as expected for Japan, meaning he wasn't stretched out and ready to start the major league season on Opening Day.
"He showed some rust in his first start," Melvin said.
In his first two starts this season, Darvish gave up six runs on nine hits, five walks and a three hit batters over 11 1/3 innings.
He took the loss in his only start against the Brewers last season despite giving up two runs on three hits and two walks with seven strikeouts over 6 2/3 innings in a 2-1 loss on May 22. He is 2-3 lifetime in eight starts against the Brewers with a 2.22 ERA and 62 strikeouts in 44 2/3 innings
Miley earned the 100th win of his career in his first start of 2023 against the New York Mets. He has worked 11 innings in his first two starts this season, giving up three runs on 10 hits and three walks with six strikeouts.
He is 1-6 lifetime against the Padres with a 5.28 ERA in 15 starts with 63 strikeouts in 87 innings. He is 1-4 with a 4.76 ERA at Petco Park. He faced the Padres once in 2022 while a member of the Chicago Cubs, getting no decision in his team's loss while giving up three runs on five hits and five walks in three innings
The Brewers lead the National League in run differential at plus-27 but had trouble getting runners across the plate in Saturday's 10-3 loss. They had 12 hits -- the same number as San Diego -- but left 11 runners on base and were 2-for-12 with runners in scoring position
"We got men on base; we just missed the next hit for most of the game, really," Counsell said after the game. "I know we created a lot of traffic. Just couldn't get that next hit today with with men on base."
--Field Level Media