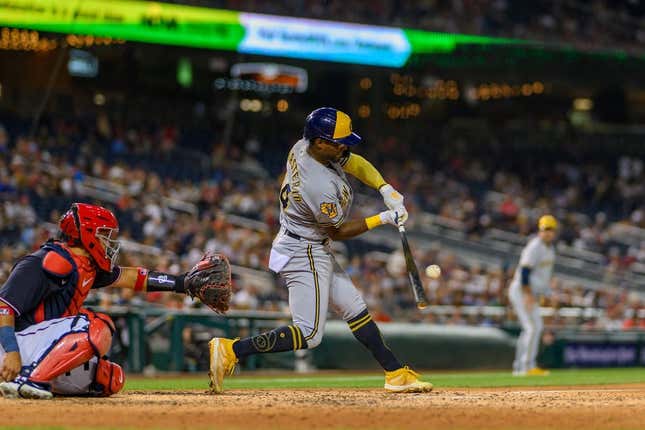 The Milwaukee Brewers are making moves they hope will help them win a spot in the National League playoffs
How running an NFL team is like running a restaurant | Chef Emeril Lagasse
Right now, they just need to win a game
Milwaukee plays the middle contest of a three-game series against the host Washington Nationals on Tuesday looking to snap a four-game losing streak following a 5-3 loss on Monday
The Tuesday contest could see the newest Brewer, outfielder Mark Canha, make his debut. After acquiring first baseman Carlos Santana from the Pittsburgh Pirates on Thursday, Milwaukee swapped minor league right-hander Justin Jarvis for Canha and cash in a deal with the New York Mets on Monday
Canha, 34, hit .245 with six homers, 29 RBIs, 28 runs and seven stolen bases in 89 games with the Mets this year. He can play the outfield, first base and third base
"He's a guy that we're excited to have," Brewers general manager Matt Arnold said. "He's somebody that's been a productive big-league player now for a long time. He still is a versatile guy as well. ... He's somebody that we think can help us here down the stretch.
After being swept by the National League-leading Atlanta Braves over the weekend, the Brewers likely welcomed a trip to Washington, but they squandered a 3-2, seventh-inning lead to drop the opener
Joey Wiemer homered and Christian Yelich had three hits for the Brewers
Right-hander Freddy Peralta (6-8, 4.46 ERA) will try to snap Milwaukee's losing streak. Peralta's last three starts have included two outings in which he tossed six shutout innings against the Reds sandwiched around a drubbing by the Braves in which he gave up six runs on six hits over five innings
Peralta, who matched his career high on Wednesday with 13 strikeouts against Cincinnati, is 2-2 with a 7.29 ERA in five career games (three starts) vs. Washington
The Nationals also were busy on the trade front Monday, sending veteran infielder Jeimer Candelario, 29, to the Chicago Cubs for a pair of minor-leaguers -- left-handed pitcher DJ Herz and shortstop Kevin Made
On the field, Joey Meneses had three hits, including a homer, and drove in three runs, while Lane Thomas added two hits and two RBIs
Meneses capped Washington's three-run seventh inning with a two-out, two-run single
"There was a curveball and I didn't recognize it well," Meneses said via an interpreter. "But I was thinking he was going to repeat it. And then next time he threw it, I was able to connect (with) it and put it out there and get a base hit out of it.
Nationals closer Kyle Finnegan, a potential trade candidate before Tuesday's deadline, pitched the ninth inning for his 15th save
"I was focused on getting those last three outs of the game (Monday)," Finnegan said. "I was preparing for it, it came and I was ready. This time of year is always crazy, but we're professionals, and we can do our best to block out the noise and focus on doing our job.
Washington has won eight of its past nine home games
Right-hander Josiah Gray (7-8, 3.27 ERA) will start for Washington on Tuesday. Over his past two starts, Gray is 1-0 and has allowed a total of just one run on six hits and six walks over 13 innings
Gray has never faced the Brewers
--Field Level Medi