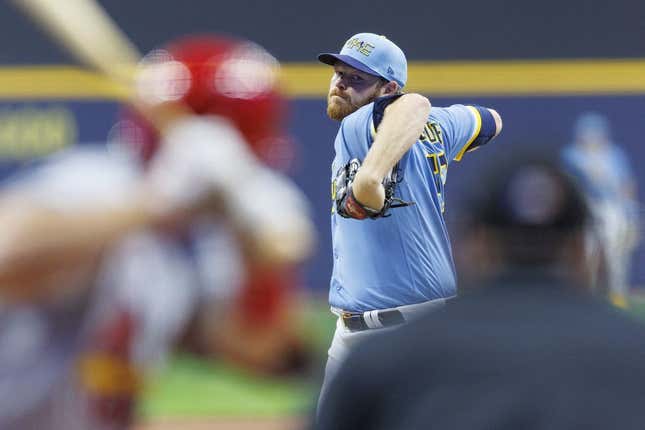 Brandon Woodruff landed on the 15-day injured list on Tuesday due to right shoulder inflammation, but the Milwaukee Brewers right-hander expects to be ready to return as soon as he is eligible
Woodruff exited his Friday start against the visiting St. Louis Cardinals after 5 1/3 scoreless innings due to arm fatigue.
He had been scheduled to start the series finale against the Arizona Diamondbacks on Wednesday in Phoenix, but Woodruff said, "I just didn't feel like I can go out and be effective. ... It's not fair to put myself in that situation, not fair for the team."
He added, "My hope is that in about a week I should be fine. It shouldn't require the full 15 days."
The Brewers replaced him on the roster by promoting right-hander Janson Junk from Triple-A Nashville. The team didn't immediately announce a starting replacement for Woodruff on Wednesday, but after Milwaukee's 7-1 win over Arizona on Tuesday, manager Craig Counsell confirmed that Hunk would make the start
Woodruff, 30, is 1-0 with a 0.79 ERA through two starts this year. He has 12 strikeouts and three walks in 11 1/3 innings.
The two-time All-Star posted a career high in wins last year while going 13-4 with a 3.05 ERA in 27 starts. In seven major league seasons, all with the Brewers, Woodruff is 42-25 with a 3.14 ERA in 121 games (106 starts)
Junk, 27, was 1-0 with a 0.90 ERA in two games (one start) for Nashville this season. He had brief stints with the Los Angeles Angels each of the past two seasons, going a combined 1-2 with a 4.74 ERA in seven games (six starts).
Junk was acquired by Milwaukee in the November trade that sent outfielder Hunter Renfroe to the Angels.
--Field Level Media