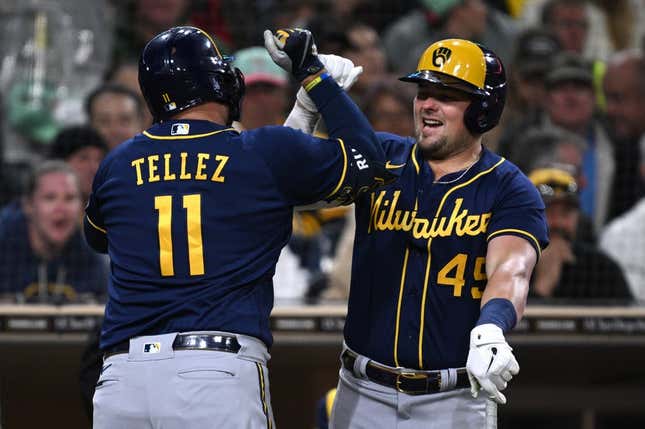 Rowdy Tellez led a 15-hit attack with two homers and four RBIs and left-hander Eric Lauer allowed one run over six innings Friday night as the Milwaukee Brewers routed the host San Diego Padres 11-2
Bass' ERA stinks, but not compared to who he is off the mound | Worst of the Week Countdown
The Brewers finished with nine extra-base hits -- including four doubles in a four-run first inning off Padres' starter Michael Wacha. Christian Yelich smacked a solo homer off Wacha in the second
Milwaukee set season highs for hits and extra-base hits and have won the first two games of the four-game series. Tellez is 4-for-8 in the two games with three homers and seven RBIs.
The only run against Lauer (2-1) was a solo homer leading off the fifth by Padres catcher Luis Campusano. Lauer allowing five hits and two walks with five strikeouts
The Brewers got all the runs they needed in the first against Wacha (2-1)
Yelich and Willy Adames opened the game with doubles for the first run. After Wacha retired the next two hitters, Milwaukee got three straight hits for three more runs -- an RBI double by Brian Anderson, a run-scoring single by Luke Voit and a double by Mike Brosseau that scored Voit from first.
Wacha then gave up solo homers to Yelich in the second and Tellez in the fifth. Tellez's second home run was a three-run shot off Nabil Crismatt in the sixth.
Voit had three hits for the Brewers. Tellez, Yelich, Adames, Anderson and Owen Miller all had two hits for the Brewers. Anderson had two doubles and two RBIs, and Voit also drove in a pair
Meanwhile, Lauer retired the first eight Padres he faced before Jose Azocar doubled with two out in the third. That was the Padres' only hit until Campusano's homer
Wacha was charged with seven runs on 11 hits and a walk with three strikeouts in 4 1/3 innings. First baseman Brandon Dixon pitched a perfect ninth for the Padres
--Field Level Media