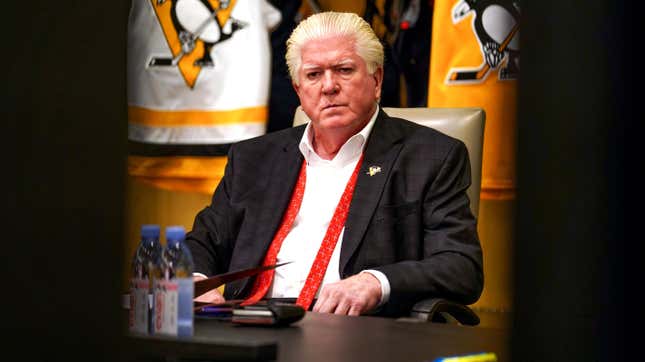 Before we pivot later today to the NHL Playoffs, we can kick a little more dirt on the regular season, and specifically, the Pittsburgh Penguins. After missing the playoffs for the first time since before the Obama administration, the Penguins fired GM Ron Hextall — rumored to be an inside agent sent from Philadelphia but unconfirmed — and director of hockey operations Brian Burke. The question should be why they hired either in the first place, especially the latter. But this is the NHL, where if you can get one job you will most likely get 17.

Brian Burke's history
Burke has dined out on two facts for what has been a 25-year career in NHL front offices. One of them was that the Sedin twins insisting on playing with each other and the Blackhawks being uncategorically stupid (a continuing theme even in their glory) to allow Burke to draft them together, and a Stanley Cup he won in Anaheim with a roster he didn't build. Combine that with his gruff demeanor and loose tongue that is the dream of all hockey writers and a vision of what they think hockey execs used to and should be, and you get someone who's had a free pass for his idiocy ever since. Challenge enough other execs to a fight that hockey media can write about for years (and probably get shitfaced with them in enough hotel bars), pretend you hate the media and TV and yet strangely are always available to them, and you'll never hear a discouraging word.
Burke's teams for the past 25 years have won two divisions, and other than those Ducks, have won exactly two playoff series. All Burke did for the Ducks was to use someone else's assets to collect Chris Pronger on the cheap after he demanded a trade out of Edmonton. He then took that cache to land perhaps the most coveted front office job in the sport, the GM of the Maple Leafs.
He reduced Viagra sales in Ontario by 75 percent by using a lot of big words that Leafs media and fans couldn't spell that were synonyms for hitting and fighting and sandpaper and grit and all the other horseshit that hockey media used to be unable to stop mainlining. The Leafs never sniffed the playoffs under his guise. Though he did provide the backbone for the Bruins' 2011 Cup with his trade for Phil Kessel that provided Boston with Tyler Seguin and later Dougie Hamilton.
He moved on to Calgary, where the Flames made the playoffs once, and that was thanks to the injection of Johnny Gaudreau and Sean Monahan, two players Burke didn't draft. And then came the Penguins job, which he and Hextall playing the role of Nero, if you can call thinking Jeff Carter still had a pulse or that Mikael Granlund will ever score a goal that matters again "fiddling."
For most of the last 10 years, Burke and his cohorts in the media have tried to shield him by just calling him a glorified consultant, which doesn't really stand up to any sort of examination when the Flames and Penguins made such a stink about both hiring and firing him. You don't tell your fans there are big changes coming when you simply bring on or let go of a guy you might call in Florida once a week. That's a consultant.
But because Burke shows up on any TV show that'll have him, looking redder than a dodgeball and usually having the demeanor of someone who just had their car booted, he is still well thought of by the hockey world. He'll end up on TSN during Hockey Night in Canada next year assuredly, where he can criticize teams for not having the right fourth-liner or declaring any team that is trailing by a goal after one needs to get physical, the kind of hockey analysis peddled throughout Canada (for a nation that invented the game they sure do have a hard time explaining it in any cogent fashion). Luckily, Gary Bettman likely won't allow an Olympics anytime soon so Burke can't ruin that roster like he did in 2014.
Oh, and this is also a guy who responded to Peter Zezel's request in Vancouver to be traded to the Eastern Conference so he could be closer to his terminally ill niece by trading him to Anaheim out of spite.
The Penguins will be better off, just as every team Burke has left has been. But man, can he look disheveled on camera. That's hockey, baby!
Yet another ump show
How do baseball players get this way? Perhaps dealing with umps like this their entire lives might provide an answer:

Thankfully, his teammate had quite the rebuke not too much longer for said ump: