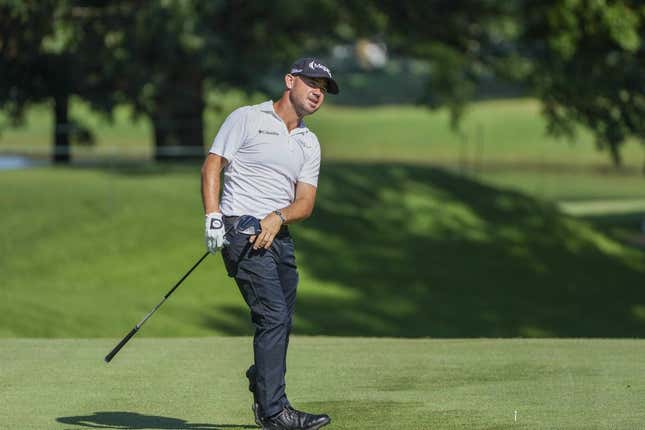 Brian Harman's feet are on the ground in Memphis, where the FedEx Playoffs start Thursday, but his heart and mind are still wrapped around the Open Championship.
How running an NFL team is like running a restaurant | Chef Emeril Lagasse
"I will say, life is better as a major champion," Harman said Tuesday, two days before he and the other top 70 in the playoff standings begin pursuit of the $19 million first-place prize.
Harman, 36, picked a grand re-entry point to the winner's circle. He hadn't won since 2017 when he grabbed the Claret Jug with two hands and ran away from the field at the Open Championship at Royal Liverpool Golf Club by six shots.
The victory pushed Harman into the OWGR top 10 and into position to slide into the United States Ryder Cup roster with a strong playoff push the next two weeks. The top six players in qualifying points on Aug. 20 automatically will make the team.
"It's been a wild ride," Harman said. "I've kept the Claret Jug right on the kitchen counter. My wife has asked me to move it several times. It's like, 'That's a hard no. It's going to stay right here.' I've caught myself walking by it, looking at it like, 'Damn man. I still can't believe it happened.' ... It was a very wild experience."
Harman said he talked Monday with Scottie Scheffler about how he has dealt with the professional high — and attention — of major success and all that follows.
"I've always enjoyed when I'm on the road by myself just going to a hole-in-the-wall place and getting dinner. It's probably going to be a minute before I get to enjoy that again," Harman said.
Harman could have a chance to enjoy TPC Southwind in Memphis this week, his first start since the Open. He finished third in 2022, shooting 66 in the first and second rounds.
"Luckily I haven't done a lot of golf the last couple of weeks. My expectations are pretty low," Harman said. "But I'm excited to get back to work. Obviously last time out, had a great outing. I love this place. I love Memphis.
"I'm 36, I'm pretty set in my ways. I don't see things changing much."
—Field Level Media