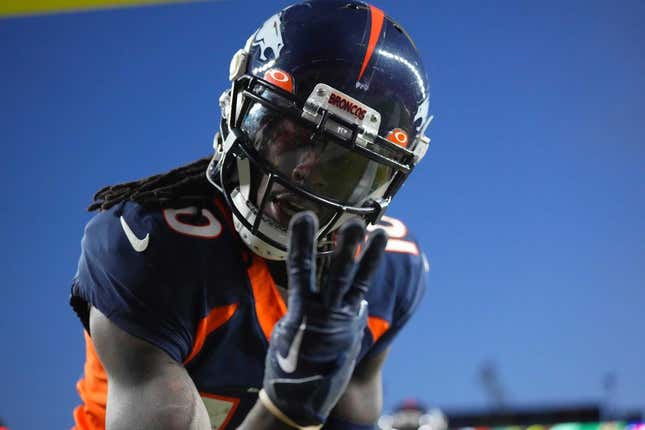 Denver Broncos general manager George Paton reiterated that the team has no intention of trading wide receiver Jerry Jeudy this offseason
Air Jordans are more American than McDonald's French fries | Deon Cole's Ultimate Sports Fantasy
"We're high -- really high -- on Jerry," Paton said during his pre-draft news conference. "We don't anticipate doing anything with Jerry. We like Jerry, and he's going to be here."
That was the message Broncos coach Sean Payton conveyed last month, but rumors have persisted that Denver may be open to parting with Jeudy and/or fellow wide receiver Courtland Sutton
The Broncos are without a first-round pick in next week's draft, where they currently hold only five total picks
Jeudy, 23, is entering the fourth year of his rookie contract, and Paton declined to say whether the team plans to pick up his fifth-year option at $12.987 million. The team has a May 2 deadline to exercise the option.
The former Alabama star is coming off his most productive season, catching 67 passes for 972 yards and six touchdowns in 2022. Jeudy closed his third season by averaging 6.6 catches for 91.6 yards over the final five games.
"Jerry finished the season strong -- the last five games, he had over 500 (receiving) yards," Paton said. "He was one of the top receivers in the league."
However, Jeudy has yet to produce a 1,000-yard season and has missed a combined nine games due to a variety of nagging injuries.
With a dearth of options left on the free-agent market, receiver-needy teams may inquire leading up to, and through, the draft. Despite lacking a pick in the first round, Paton said the Broncos will manage draft day as if they do, a remain flexible as they watch the picks roll in
"We're going to approach the first day of the draft like we're picking," he said. "That's how we've prepared our draft meetings. We're preparing like we're picking in the first round and in the second round. That'll be our approach.
"We'll monitor each pick, and we'll discuss each pick compared to our grade. We'll look at the trades and look at who's falling. I think we're going to be locked in like we have first-round pick on that first day."
On the injury front, Paton said running back Javonte Williams is "doing really well" in his rehab from knee surgery. The Broncos are confident he will play next season, but isn't putting a timetable on his return. Paton also isn't ruling out adding to the backfield depth chart during the draft
"We're not entirely sure when (Williams will return)," Paton said. "He's progressing very well.
"Like all of the positions ... if there's a runner there -- no matter what point of the draft -- and he's the best player on our board, we'll take a running back, that's for sure. We addressed enough needs (in free agency) where we can take the best players throughout the draft. We do not need to reach."
--Field Level Media