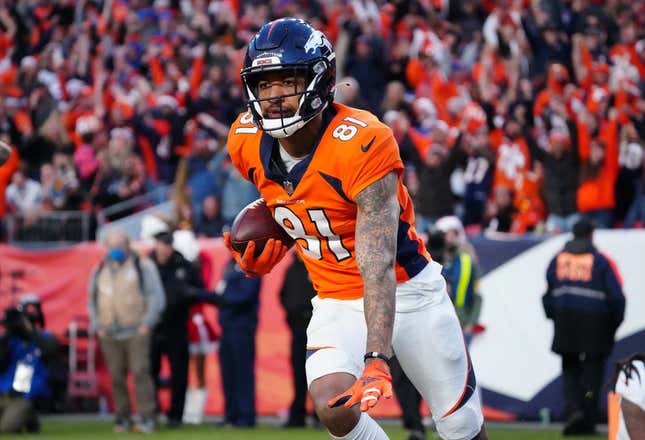 Denver Broncos coach Sean Payton confirmed Tuesday that wide receiver Tim Patrick has a torn Achilles tendon and will require surgery
Is Texas or Florida State a bigger national title contender? | Agree to Disagree
After missing the entire 2022 season due to a torn right anterior cruciate ligament, Patrick experienced another stroke of bad luck on Monday, when he tore his left Achilles in practice
"I spoke to him last night. Of course he's disappointed," Payton said. "My understanding is almost a year ago to the day (he sustained the season-ending knee injury). I think the hard thing -- and I said this yesterday -- is for a player to spend most of his offseason rehabbing, and then all of a sudden hit another roadblock
"The good news is it's a clean injury and there's a better than likely 100 percent recovery. It's pretty clean, relative to the type of surgery he's going to have. I don't have a date yet as to when that will take place, but that's where we are at there.
Patrick, 29, last played in 2021, catching 53 passes for 734 yards and five touchdowns in 16 games. In four NFL seasons, all with the Broncos, Patrick has amassed 143 receptions for 2,009 yards and 12 TDs
Payton also said Tuesday that the team isn't ruling out a return for wide receiver KJ Hamler, who was diagnosed with a heart condition. Denver waived Hamler with a non-football illness designation on Monday, but the 24-year-old is hoping that treatment and medication will allow him to come back this season
"His (situation) is unique, and it's a unique condition. We had a long visit with him," Payton said. "With him, the good news is we feel like -- I don't want to put a prognosis or timeline on it, but approximately a month and probably another couple of weeks to get in football shape
"We are hopeful that once the symptoms dissipate and he is cleared, then that leaves us a lot of options.
Hamler had seven receptions for 165 yards in seven games last season. In three seasons with the Broncos, he has caught 42 passes for 620 yards and three TDs
--Field Level Medi