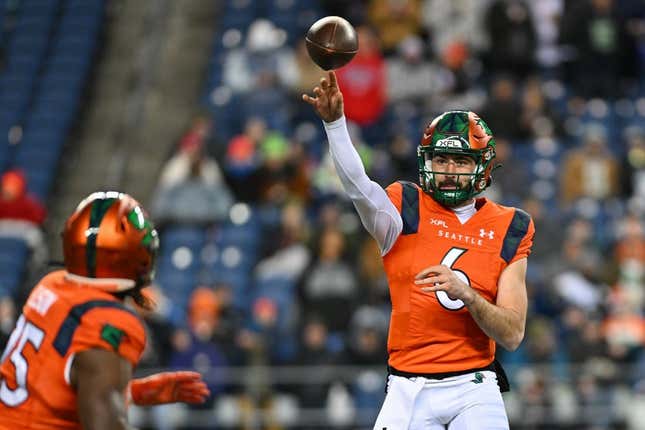 The Denver Broncos signed quarterback Ben DiNucci and running back Jacques Patrick on Tuesday, adding two players who most recently starred in the XFL
'Soccer fandom is full of gatekeepers' says Ted Lasso actor Brendan Hunt
DiNucci was the XFL's leading passer, racking up 2,671 passing yards with 20 touchdowns and 13 interceptions for the Seattle Sea Dragons. He led Seattle to one of four playoff spots in the inaugural season of the "XFL 3.0."
DiNucci, 26, spent 2021-22 with the Dallas Cowboys before being waived by them ahead of the 2022 seasons. He started one game in 2020 while Dak Prescott and Andy Dalton were injured. In three career NFL games (all during 2020), DiNucci has thrown for 219 yards without a touchdown or a pick.
Patrick, playing for the San Antonio Brahmas, ranked second in the XFL with 443 rushing yards on 115 carries. He scored five touchdowns and added 30 receptions for 238 yards.
Patrick, 26, played in two games for the San Francisco 49ers in 2021 and got two carries for 12 yards.
--Field Level Media