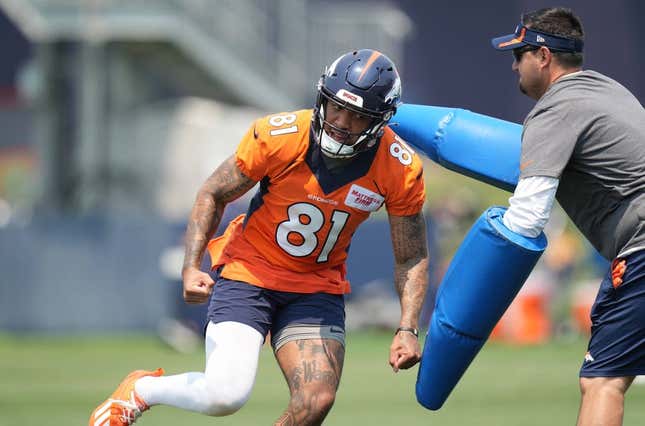 The Denver Broncos suddenly have glaring needs at wide receiver
In the span of a few hours Monday, wide receiver Tim Patrick was carted off the field and KJ Hamler was waived due to what the 24-year-old receiver labeled "mild heart irritation.
How running an NFL team is like running a restaurant | Chef Emeril Lagasse
Later in the day, multiple outlets reported that Patrick suffered a torn left Achilles tendon
"It's always difficult to watch," Broncos head coach Sean Payton said after practice, noting he saw Patrick reach for his lower left leg instantly
Patrick missed all of last season after suffering a torn ACL in his right knee in training camp
Hamler, who had surgery to repair a torn pectoral muscle in March, said via social media he had discomfort in his chest before camp began and was sent for medical evaluation
"I got everything checked out and was diagnosed with mild heart irritation, called pericarditis," he said. "I've got a great treatment plan with medicine and am taking a quick break to get this all taken care of so I can get back to doing what I love. I will be back on the field -- better and stronger than ever -- as soon as possible this season!
On Monday, Patrick went down on the second play of 7-on-7 drills, lined up in a bunch formation to the right. As he stutter-stepped behind the line and then shifted his weight to sprint forward, Patrick went to the grass
Trainers immediately looked at his lower left leg
Patrick threw his helmet after he fell to the ground, and frustration and anger would be understandable. Last training camp when Patrick was hurt, quarterback Russell Wilson would later say he sensed a shift in team chemistry because the Broncos missed his leadership and personality
Patrick was listed as a projected starter on Denver's depth chart in Payton's first season with the club
Patrick, 29, was undrafted coming out of Utah in 2018 and signed with the Broncos. In 55 games (37 starts) for Denver, he has 143 catches for 2,009 yards and 12 touchdowns. He led Denver in TD receptions in the 2020 and 2021 seasons
He started all 16 games he played in 2021, catching 53 passes for 734 yards and five touchdowns
Like Patrick, Hamler has been waylaid by injuries. He played in seven games last season. The 2020 second-round pick has 42 career receptions for 620 yards and three touchdowns in 23 games
"It's tough to deal with then when I was ready for a breakout year, but adversity is nothing new to me. I have been through hell and back, but it's hard to reach paradise if you don't go through hell first.
Among players selected soon after Hamler went 46th overall in 2000 were Seahawks defensive lineman Darrell Taylor (48), Bears cornerback Jaylon Johnson (50), Cowboys cornerback Trevon Diggs (51) and Eagles quarterback Jalen Hurts (53)
--Field Level Medi