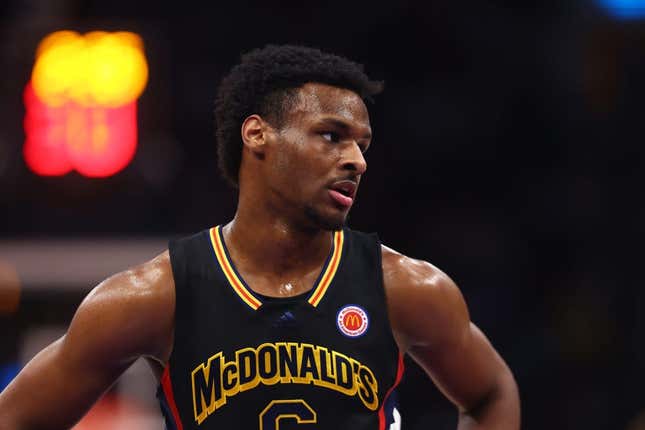 Bronny James, the son of NBA great LeBron James, is out of the intensive care unit and in stable condition at a Los Angeles hospital after suffering cardiac arrest during a workout Monday.
How running an NFL team is like running a restaurant | Chef Emeril Lagasse
The 18-year-old James was working out on the court at Southern California, where he'll play as a freshman this fall, when he collapsed.
LeBron James and his wife, Savannah, issued a statement through a family spokesperson Tuesday morning.
"Yesterday while practicing Bronny James suffered a cardiac arrest," the statement read. "Medical staff was able to treat Bronny and take him to the hospital. He is now in stable condition and no longer in ICU. We ask for respect and privacy for the James family and we will update media when there is more information.
"LeBron and Savannah wish to publicly send their deepest thanks and appreciation to the USC medical and athletic staff for their incredible work and dedication to the safety of their athletes."
TMZ reported that Bronny James was unconscious when he was taken by ambulance to the hospital.
A 6-foot-3 combo guard, Bronny James is the fifth-ranked player at his position and the No. 22 overall in the Class of 2023 by the 247Sports composite. He was a McDonald's All-American.
LeBron James, the NBA's all-time leading scorer, has said he'd like to play at least one season in the NBA with Bronny, the oldest of the James' three children. Bronny will be eligible for the 2024 NBA Draft.
Buffalo Bills safety Damar Hamlin, who was revived on the field after cardiac arrest in a game against the Cincinnati Bengals on Jan. 2, offered his support for Bronny James and the family.
"Prayers to Bronny & The James family as well. here for you guys just like you have been for me my entire process," Hamlin wrote on Twitter.
Lakers great Magic Johnson also sent well wishes.
"Cookie and I are praying for LeBron and Savannah's son Bronny after hearing he suffered a cardiac arrest," he wrote on Twitter. "We are praying and hoping he makes a full and speedy recovery."
--Field Level Media