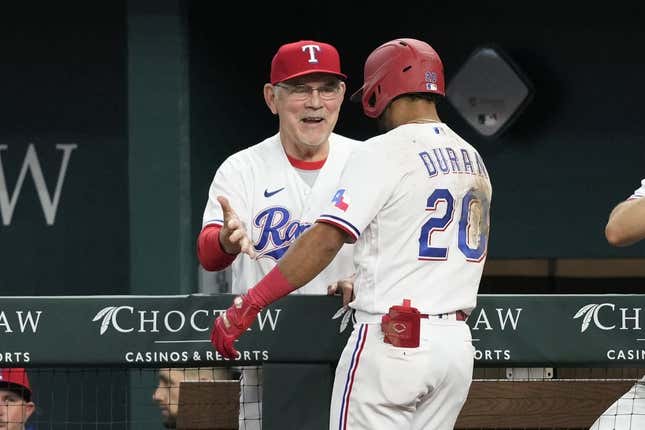 Bruce Bochy makes his return to the San Francisco Bay Area, but not at the stadium where he became a legend, when the Texas Rangers open a four-game series against the Oakland Athletics on Thursday night
Aaron Rodgers should go full Joe Namath | Comedian Bert Kreischer
After a 12-year stint with the San Diego Padres, Bochy served as manager of the San Francisco Giants for 13 seasons, three of which ended in World Series championships.
He won 2,003 games over those 25 seasons, but only 40 came against the A's in 87 head-to-heads. His Padres were just 7-12 against Oakland, while his Giants went 33-35.
No doubt, Bochy won't recognize the current edition of the A's, who were led by the likes of Matt Olson, Matt Chapman and Chris Bassitt when he last managed against Oakland in August 2019.
The Giants won the last meeting on a day when the first two Oakland batters were Marcus Semien and Robbie Grossman.
Those two now often bat 1-2 for Bochy's Rangers, as they did in Wednesday's 4-3 triumph over the host Seattle Mariners. The win was the Rangers' fourth in six games on a current 10-game trip
Semien had a home run and combined with Grossman for three hits, two runs and two RBIs in the get-away day win.
Semien was the Oakland shortstop in his previous lifetime, but he has slid over to second base with the Rangers to coexist with Corey Seager, who is currently out of the lineup with a strained left hamstring
Ezequiel Duran has filled in admirably, collecting 16 hits in his last 12 games.
"This kid," Bochy gushed, "what a job he's doing at short. He's just a good all-around baseball player ... runs bases well and you can play him anywhere out there. There is just so much to like about this kid."
Texas will open the Oakland portion of its trip with its hottest pitcher, right-hander Nathan Eovaldi (4-2, 3.22 ERA) on the mound.
The 33-year-old has been on top of his game his last two times out, throwing a complete-game shutout in a 2-0 win over the New York Yankees on April 29 before blanking the Los Angeles Angels over eight innings in a 10-1 win on Saturday.
Eovaldi will be making his 10th career start against the A's, having gone 2-2 with a 3.46 ERA in the first nine.
Oakland manager Mark Kotsay opted to use the long flight home from New York on Wednesday night to mull his options for a starting pitcher in the series opener.
The A's were thumped 7-2, 10-5 and 11-3 by the Yankees, with starting pitchers JP Sears, Drew Rucinski and Kyle Muller getting roughed up for 18 of the runs in 14 1/3 innings.
One player who, at least in part, enjoyed his Yankee Stadium experience was rookie JJ Bleday, who was seeing what he called "the Mecca of baseball" for the first time.
"This place has been awesome," he raved. "Just an honor to go out there and play. It's fun. The stadium is beautiful. It was cool. To be able to hit here was very special to me."
Bleday went 2-for-6 with a double and a walk while appearing in two of the games.
--Field Level Media