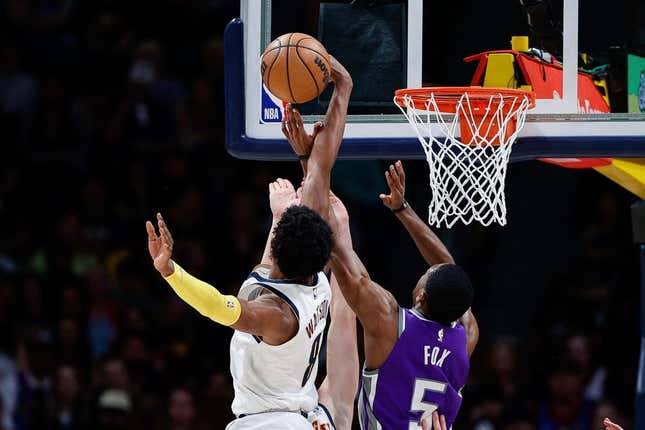 Bruce Brown collected 21 points, six rebounds and six assists to lead the Denver Nuggets to a 109-95 win over the visiting Sacramento Kings on Sunday in the regular-season finale for both teams
Air Jordans are more American than McDonald's French fries | Deon Cole's Ultimate Sports Fantasy
Both Denver and Sacramento came into Sunday's regular-season finale locked into their respective playoff spots. The Nuggets are the West's No. 1 seed for the first time since the ABA merger, while the Kings are the No. 3 seed after qualifying for the playoffs for the first time since 2006
The Nuggets won't know their opponent until Friday, while the Kings will oppose the sixth-seeded Golden State Warriors (44-38) in the first round of the NBA playoffs beginning on Saturday
Denver (53-29) made 50 percent of its shots from the floor (42 of 84). A defensively dominant third quarter proved especially pivotal for the Nuggets, as they took advantage of holding the Kings to just 5-of-17 shooting for the period -- including a dismal 1-of-12 from 3-point range
Denver took control after trailing by as many as 17 points in the first half. A 24-14 advantage in the third quarter flipped the direction of the game, then carried over into a 26-14 fourth quarter for the Nuggets
The lead swelled to as many as 18 points behind a 21-5 start to the final period for Denver.
Brown led seven Nuggets scoring in double figures, as a variety of reserves stepped up with Nikola Jokic, Michael Porter Jr., Jamal Murray and Aaron Gordon all on the sidelines
Denver's Zeke Nnaji finished with 18 points and seven rebounds, Reggie Jackson went for 16 points and Thomas Bryant added 12 points and eight rebounds. The Nuggets held a 48-25 edge in bench points
Denver also got 13 points from Peyton Watson, 11 from Vlatko Cancar and 10 from Christian Braun.
Harrison Barnes led Sacramento (48-34) with 17 points. Domantas Sabonis scored 14 points on 6-of-9 shooting and grabbed nine rebounds but played fewer than 19 minutes. De'Aaron Fox, who scored 13 points, played less than 18 minutes.
Kevin Huerter rounded out Sacramento's double-figure scoring with 12 points. Chimezie Metu scored nine points off the bench in 11:51 of action.
--Field Level Media