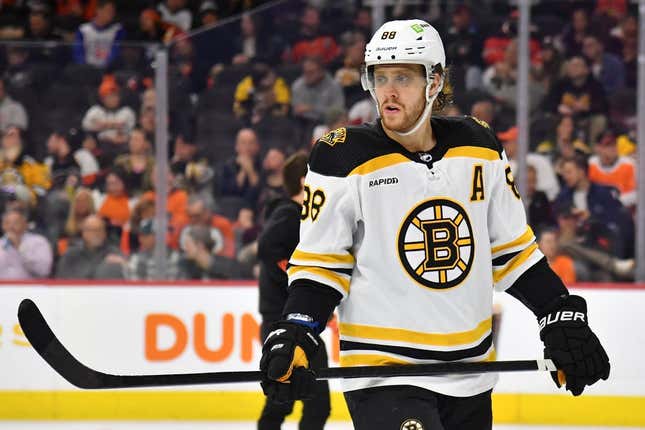 The Boston Bruins will conclude their record-setting regular season with a Thursday night road game against the Montreal Canadiens
Boston (64-12-5, 133 points) carries a seven-game winning streak, having set NHL single-season records for victories and points after beating the Philadelphia Flyers and Washington Capitals on Sunday and Tuesday, respectively.
With all possible history already written, the Bruins are solely focused on getting ready for the start of the Stanley Cup playoffs against the Florida Panthers or New York Islanders
"We're looking forward to next week, but we're also going to go to Montreal and get ready for another game," Bruins coach Jim Montgomery said after Boston's 5-2 win over Washington. "I think we've just been able to keep moving on to what's next and not looking too far ahead.
Montgomery expects to dress a close-to-normal lineup, though there are some question marks.
Goaltender Linus Ullmark left in the third period on Tuesday due to muscle tightness, and he will not travel to Montreal.
The Bruins were leaning toward starting Jeremy Swayman in net, though an official decision had not been made as of Wednesday. Brandon Bussi, who backed up Swayman for the Philadelphia game, was again recalled from AHL Providence on an emergency basis
"Linus is good today, but we're going to be precautionary with him and he's not going to come on the trip," Montgomery said Wednesday.
Forward David Krejci (lower-body injury) will be ready for the start of the postseason, while defenseman Derek Forbort and forward Nick Foligno are "checking boxes" on their way back from their own lower-body ailments.
"He's a playoff-only guy," Montgomery said of Krejci, who will miss a sixth straight game on Thursday. "That's what he told me."
Forward Tomas Nosek (illness) may not travel to Montreal.
All of the fallen records will mean nothing in just a few short days.
"We're happy about it right now, don't get me wrong, but it's a regular-season record," said forward Brad Marchand, who had not scored since March 9 before finding the net on Tuesday. "Playoffs start, everything starts over again. There's gonna be 16 teams that have the same goal in mind."
Montreal (31-44-6, 68 points) represents the final challenge before the Bruins' Stanley Cup quest begins. The Canadiens will be concluding a season-ending, back-to-back set after taking a 4-2 loss to the New York Islanders on Wednesday in Elmont, N.Y
Rem Pitlick and Nick Suzuki scored for the Canadiens, who have lost six of their past seven games
Suzuki, 23, has set career-high marks in goals (25) and points (65) during his first season as the Montreal captain.
"To be put in that position at such a young age but still bring his on-ice game to another level is really impressive," defenseman Mike Matheson said of Suzuki.
It has been a season of growth for the young Canadiens under coach Martin St. Louis. They have eight players among the NHL's top 45 in points by rookies. Rafael Harvey-Pinard leads that group with 14 goals and 20 points
"I think the guys know that we let them play and want them to grow," St. Louis said. "I think all the young guys learn along the way about the non-negotiables, but there's some freedom in expressing themselves with their game as long as they play inside our concepts and stuff."
Forward Sean Farrell, a Massachusetts native, joined the Montreal roster following his season at Harvard University. He netted his first NHL goal in the second of the five games he has played.
--Field Level Media