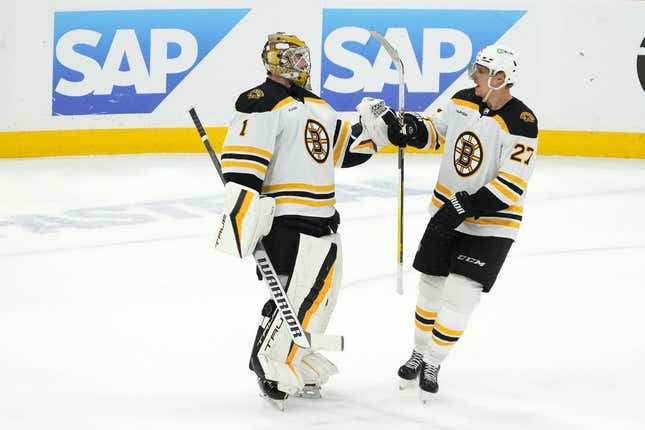 A week after being trounced on home ice, the Boston Bruins have regained full control of their Eastern Conference first-round series and return to TD Garden with a chance to eliminate the Florida Panthers in Game 5 Wednesday night
Bass' ERA stinks, but not compared to who he is off the mound | Worst of the Week Countdown
Boston, which rolled 4-2 Friday and 6-2 Sunday in Sunrise, Fla., has history on its side with a 21-2 all-time record in best-of-seven series that it leads 3-1.
"The benefit of what we've done all year is that we've been in moments to clinch," Bruins coach Jim Montgomery said. "We think it has (prepared us well) because we talk about staying in the moment and really just digging into our process, and that creates the habits and details that we think give us good results.
The Bruins have played the entire series thus far without captain Patrice Bergeron, who could return Wednesday after being injured in the April 13 regular-season finale at Montreal. He felt good during his return to team practice on Tuesday
Fellow veteran center David Krejci (upper-body) is "progressing well" but will not play for a third straight game.
After missing the likes of Brad Marchand and defenseman Charlie McAvoy at the very beginning of the season, the Bruins are unfazed by who's in or out on any given night. That will surely continue for the veteran-laden group
"Throughout the entire year, we've had different guys step up at different times and through the past two games, big games from (Charlie) Coyle, (Taylor Hall), (Tyler Bertuzzi) and a lot of different guys," defenseman Brandon Carlo said Sunday. "I think we're just trying to keep the (next man up) mentality as we have the entire year."
Among them, Hall and Jake DeBrusk both scored twice in Sunday's win.
Dmitry Orlov has five points (all assists) in the series, making him just the sixth defenseman since 1997 to register a point in each of his first four playoff games with a franchise.
There is plenty of fight left in the Florida team that was one of just two to post multiple wins against the Presidents' Trophy winners during the regular season and finished on a 6-1-1 run just to clinch a wild-card spot.
"This series is not over," defenseman Josh Mahura said. "We've kind of had our backs against the wall for the last few months coming into this. We have a style of play that has been successful."
In fact, 10 NHL teams since 2010 have overcome a 3-1 series deficit to advance in the postseason. The New York Rangers turned the feat in last year's first round against Pittsburgh.
"There's a certain freedom and focus that comes to elimination games, or those games that you absolutely have to win," Florida coach Paul Maurice said. "You push as hard as you possibly can. There's all the cliches. There is no tomorrow. That helps you build your mindset going to the rink, especially when you've invested as much as this group has to get (to the postseason)."
The Panthers' style of play -- one that they "seem to thrive on," Marchand said -- has included playing with emotion, physicality and attempting to get under the skin of the higher-seeded opponent
Matthew Tkachuk has two goals and three assists for the Panthers in the series, but his 16 penalty minutes have been even more crucial. Boston's power play was 2-for-4 on Sunday
Tkachuk received the "maximum allowable" fine of $5,000 after cross-checking Bruins forward Garnet Hathaway at the end of the first period of Game 4. He was also involved in a late scuffle that included Bruins goaltender Linus Ullmark, who received a misconduct penalty
"They're very physical, they like to hear it after whistles, a lot of guys talk," Marchand said. "That's their game. They've had a lot of success doing that. We've had success playing the way we play and we just have to remember to stick to that."
Defenseman Aaron Ekblad and winger Anthony Duclair are both expected to be available after recent injuries.
--Field Level Media