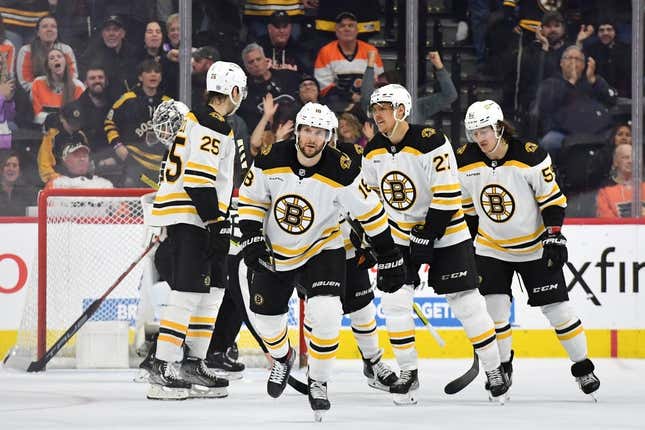 Despite already clinching the Presidents' Trophy and setting the NHL record for single-season victories, the Boston Bruins aren't looking too far down the road
'Soccer fandom is full of gatekeepers' says Ted Lasso actor Brendan Hunt
More history is within reach for the Bruins (63-12-5, 131 points) as their regular-season home schedule concludes with a Tuesday night visit from the Washington Capitals (35-36-9, 79 points)
Boston enters the game just one point away from matching the 1976-77 Montreal Canadiens for the most points in NHL history.
Although the Bruins know their historic season will not be complete without a Stanley Cup, there is a long way to go
"We talk about Game 1," Boston coach Jim Montgomery said. "Looking too far ahead, that creates anxiety. We believe in staying present, and our process allows us to have success. We like to live in the moment. We're not looking at June, we're looking at April 17."
There is a lot to like about Boston's recent game, but preparing for postseason play is of the utmost importance.
Sunday's 5-3 win at Philadelphia was the Bruins' sixth straight victory. They have six streaks of at least that length this season
"You want to make sure you're playing the right way and build as best you can so when playoff time comes, you're ready to go," forward Charlie Coyle said. "That's the real season there."
David Pastrnak reached the 60-goal mark following his hat trick on Sunday, but the game offered an opportunity for the Bruins to rest some key players
Forward Vinni Lettieri and defenseman Connor Carrick saw ice time while captain Patrice Bergeron, fellow forwards David Krejci and Taylor Hall, defensemen Charlie McAvoy (upper body) and Dmitry Orlov (back) and goaltender Linus Ullmark (lower body) were all "unavailable."
"If you go really deep, you never know who you're going to be able to play," Montgomery said. "To put them in a Spoked-B uniform, playing in the NHL, for me to be able to see what they're like behind the bench, is really important."
Hall (knee) returned Saturday against New Jersey and was held out Sunday in the second half of the back-to-back for precautionary reasons.
Krejci could play Tuesday after missing four games.
Washington had been in a 0-5-1 spell before starting its back-to-back with a 5-2 win over the New York Islanders on Monday.
Dylan Strome scored 36 seconds into the game and tallied into an empty net with 1:10 remaining in the third period.
Strome, who signed a contract extension in February, is on a four-game goal scoring streak to boost his career-high total to 23 on the season.
"He's been the guy for me that's consistently producing," Capitals coach Peter Laviolette said. "Even though we haven't been finding the ways that we want to be successful, at the end of the night he's still finding a way to produce.
The Capitals had scored two or fewer goals in each of their previous five games
While forward T.J. Oshie (upper body) is out for the remainder of the season, Laviolette had not ruled out captain Alex Ovechkin (upper body) returning to action.
"You saw a lot of character," goaltender Darcy Kuemper said after a 38-save effort Monday. "We're not going to roll over. We're going to play hard."
--Field Level Media