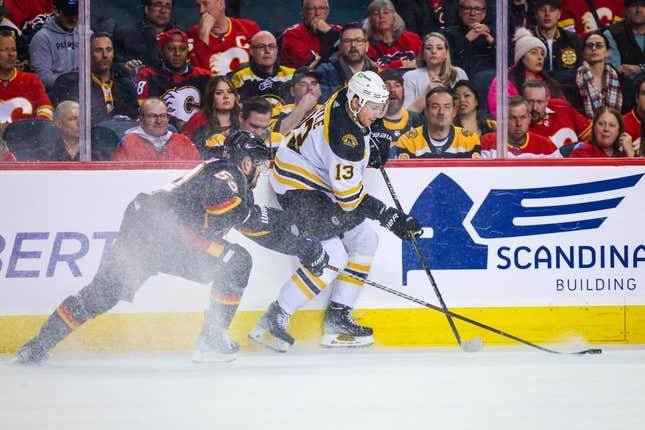 Charlie McAvoy scored the overtime winner and goaltender Linus Ullmark made a franchise-record 54 saves as the league-leading Boston Bruins claimed a 4-3 road victory over the Calgary Flames and extended their winning streak to eight games.
Ullmark, with his team playing its third game in four nights, sparkled while facing 57 shots, the most the Bruins have allowed all season and most the Flames have registered. His save total was the second highest in the NHL this season.
McAvoy was on the spot when he finished a flurry with 4.3 seconds remaining in overtime to net his fifth goal of the season. His fifth career overtime goal pulls him into a tie with Ray Bourque for the most by a defenseman in franchise history.
Dmitry Orlov scored twice in a three-point game while Pavel Zacha also scored for the Bruins. Jake DeBrusk and Patrice Bergeron both recorded a pair of assists.
Blake Coleman, Dillon Dube and Jonathan Huberdeau replied for the Flames, who have lost three straight -- two in extra time -- and have just two wins in eight outings (2-3-3). Dan Vladar stopped three of five shots in the first period before Jacob Markstrom took the net and made 13 saves.
The Flames lost despite finishing with a 57-20 shot advantage. The minus-37 difference was the largest differential in Bruins history.
Despite Calgary outshooting the Bruins by a 19-5 count in the opening period, the visitors staked a 2-0 lead by the intermission. Orlov notched his first goal since being traded to the Bruins from Washington when he found the mark with his team's first shot at the 4:47 mark, and then made it a 2-0 lead at 13:39 with his fifth goal of the campaign.
Coleman sparked a Calgary comeback 67 seconds into the second period by burying an open chance from the slot for his 13th goal of the season and 100th of his career.
Shots on goal by the end of the second period were 39-9 in favor of Calgary, and the Flames were rewarded when Dube evened the score at 8:16 of the third period with his 17th marker of the season.
Huberdeau put the Flames ahead 77 seconds later when his pass attempt banked off a defender's skate and into the net for his 12th goal of the season.
However, Zacha's power-play goal, his 15th of the season and set up by Orlov, with less than six minutes remaining in regulation forced overtime.
The win came at a cost, as Bruins forward Nick Foligno left the game late in the second period after being on the receiving end of a hard check from Nikita Zadorov.
--Field Level Media