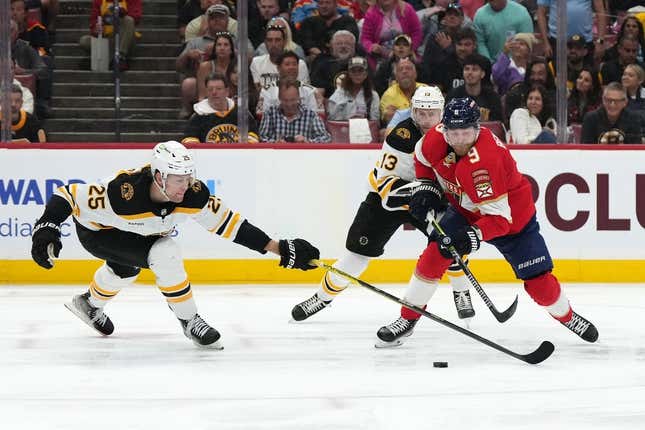 Jake DeBrusk and Taylor Hall scored two goals each to lead the Boston Bruins to a 6-2 Game 4 win over the host Florida Panthers on Sunday afternoon in Sunrise, Fla
'Soccer fandom is full of gatekeepers' says Ted Lasso actor Brendan Hunt
Hall also had two assists to help give the Bruins a 3-1 lead in this Eastern Conference first-round series. After winning both games in Sunrise, the Presidents' Trophy winners will try to clinch the series in Boston on Wednesday night
With 3:11 left in the game, Bruins goalie Linus Ullmark and Panthers star forward Matthew Tkachuk got into a fight and were both ejected
Ullmark made 41 saves before his ejection. Jeremy Swayman finished the game for Ullmark.
Brad Marchand and Tyler Bertuzzi also scored for Boston and Pavel Zacha and Tomas Nosek each had two assists.
Florida got goals from Tkachuk and Sam Bennett and two assists by Brandon Montour. The goal by Bennett marked Florida's first successful power play of the series.
The Panthers got 25 saves from Sergei Bobrovsky, who got his first start since March 27. He replaced Alex Lyon, the career minor-leaguer who had sparked the Panthers for the past three-plus weeks before running into the Bruins
Each team was missing important players due to injuries. Boston was without two top-six forwards: David Krejci and captain Patrice Bergeron. Florida was missing defenseman Aaron Ekblad and forward Anthony Duclair.
Florida dominated the first half of the opening period, getting the game's first 10 shots on goal. However, the Panthers did not score, and Boston controlled the game the rest of the way
Boston took a 1-0 lead on Marchand's rebound power-play goal with 10:15 left in the period.
Boston made it 2-0 with 18:08 remaining in the second on another power-play goal. Dmitry Orlov provided the pass, and DeBrusk scored on a redirection.
The Panthers got on the board with 4:00 left in the second as Tkachuk picked up a loose puck that sat just behind the net, slipped it between his legs and into the goal
The Bruins extended it to 3-1 with 17:34 remaining in the third on a shot by Brandon Carlo that was deflected in from the right circle by Bertuzzi. The deflected puck skidded in between Bobrovsky's legs
Florida cut its deficit to 3-2 on Bennett's power-play goal with 13:49 left. The goal came on the fifth shot in an 18-second sequence. Montour got the primary assist for his shot from the left circle. Bennett's first rebound attempt was stopped but Ullmark, but Bennett persisted and secured the goal.
Boston regained control at 4-2 with 11:55 remaining as Zacha's shot bounced out of Bobrovsky's glove, leaving an easy tap-in for DeBrusk.
One of Hall's two goals during the final 3:36 was an empty-netter.
--Field Level Media