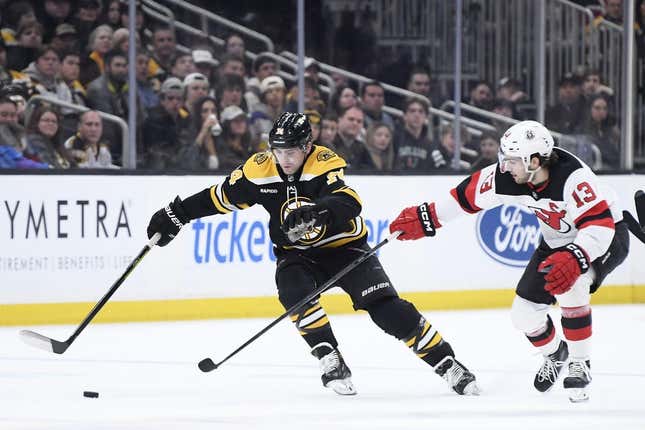 Pavel Zacha scored two goals in the opening 4:44 of the first period, and the Boston Bruins held on to defeat the New Jersey Devils 2-1 on Saturday night
The Bruins (62-12-5, 129 points) matched the NHL record for single-season wins, a feat accomplished previously by Detroit in 1995-96 and Tampa Bay in 2018-19
Boston, which had reached 100 points faster than any team in NHL history (61 games), is on pace to break the record for points in one season (132) held by the 1976-77 Montreal Canadiens in an 80-game season.
Linus Ullmark made 29 saves in net for Boston, which has won five straight and heads to Philadelphia on Sunday night in hopes of setting the wins record all for itself.
Tyler Bertuzzi assisted on both goals.
Jesper Bratt scored the lone goal and MacKenzie Blackwood made 38 stops for the Devils (50-22-8, 108 points), who had won back-to-back games
Boston had a 40-30 shot advantage, including a 22-10 count in the first period.
The Bruins needed just exactly two minutes to jump into the lead as Zacha was parked in front of the net to tip in Hampus Lindholm's shot from the left point for a power-play goal
Zacha made it a 2-0 game at the 4:44 mark, following up a David Pastrnak one-time shot that caromed off the end wall and right to him on the right side.
New Jersey got a goal back less than two minutes later as Bratt took a Jack Hughes pass and burst down the slot for a break-in goal at 6:21.
The primary assist was the 96th point of the season for Hughes, tying the Devils' single-season franchise record
The score also remained 2-1 Boston after two periods. Early in the middle frame, Hughes had a golden chance to take over the Devils' record himself, but Ullmark made multiple saves at the end of a breakaway
--Field Level Media