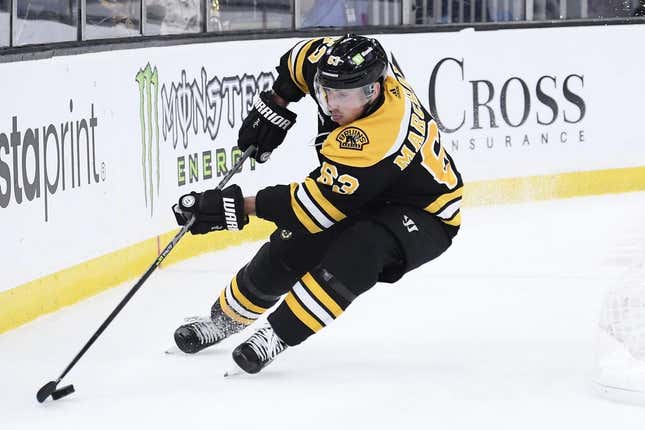 The Boston Bruins are on the cusp of NHL history
Winners of five straight games, Boston (62-12-5, 129 points) aims to set an NHL record for single-season victories on Sunday when it visits the free-falling Philadelphia Flyers (29-37-13, 71 points)
Aaron Rodgers should go full Joe Namath | Comedian Bert Kreischer
The Presidents' Trophy-winning Bruins tied the NHL record win total with a 2-1 triumph over the New Jersey Devils on Saturday
With less than a handful of games left before the playoffs, Boston's lineup received a boost as Taylor Hall returned from a lower-body injury.
"I wanted to play in either the Toronto game (Thursday) or this game just to feel a little bit of playoff intensity against teams that are really looking for points," Hall said after Saturday's win. "Playing a game like that where every shift mattered was great."
Former Devil Pavel Zacha scored both goals for Boston in Saturday's win.
The Bruins have had brushes with individual and team history all throughout this season, now posting a win total that only the 1995-96 Detroit Red Wings and 2018-19 Tampa Bay Lightning have reached in the history of the league
The single-season NHL points record is also in sight for the Bruins. Their 129 points tied the 1977-78 Montreal Canadiens for the third-most in a single season. The 1995-96 Red Wings had 131 points, one shy of the all-time record set by the 1976-77 Canadiens
Bruins coach Jim Montgomery believes that the records are not lost on his veteran-laden team
"I think they do grasp it because we're talking about the history of the NHL," Montgomery said. "Yeah, I think they grasp it like when (Wayne) Gretzky broke (Gordie) Howe's (scoring) record. That's an individual feat, but everybody's aware of it. Our group is aware of what we are doing as a team."
The Flyers, who are 0-5-1 in their last six games, are coming off a 4-0 loss against the Islanders in New York. They finished a winless four-game road trip being outscored 16-5
Saturday's all-around effort was not to coach John Tortorella's liking.
"We just couldn't sustain. We played in spurts," Tortorella said after his team went 0-for-2 on the power play and hardly tested Islanders goaltender Ilya Sorokin after the first period.
Philadelphia had a 10-4 shots edge over the first 14 minutes and finished the game with 27 shots.
Carter Hart stopped 15 of the 18 shots he faced in two periods before being pulled in favor of Felix Sandstrom.
"I didn't feel like I deserved to be pulled, but it is what it is," Hart said.
Tortorella declined to offer a reason for the switch.
"I just wanted to take him out," he said.
Several Flyers are approaching significant career milestones and could reach them Sunday. James van Riemsdyk has scored 299 career goals, while defensemen Justin Braun and Tony DeAngelo will enter the game with 199 points
Boston will finish the regular season without a loss in the first game of back-to-backs (12-0-2).
The Bruins have won both head-to-head meetings with Philadelphia this season, including a dominating 6-0 result on Jan. 16
--Field Level Media