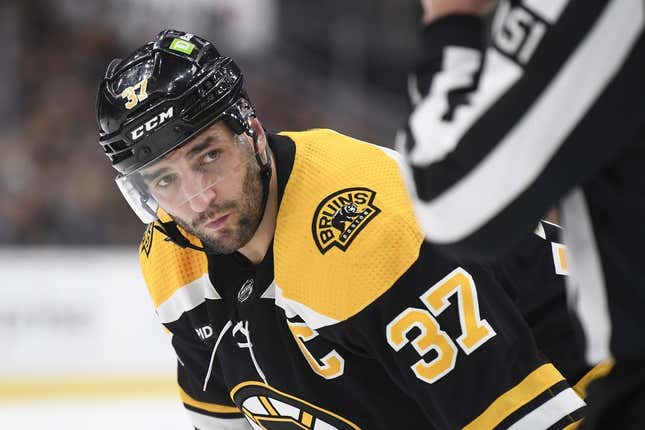 The Boston Bruins rewrote the NHL record book on their way to the Presidents' Trophy, including setting new standards for single-season wins and points
Chris Paul should ride the bench next season | Keep it a Buck(et)
That historic run, however, is now long over.
After taking a 3-1 series lead, the Bruins have been pushed to the edge by the upset-minded Florida Panthers in an Eastern Conference opening-round series
It will be a win-or-go-home scenario in Sunday night's Game 7 at Boston after the Panthers have won back-to-back games, including a 7-5 victory Friday at Sunrise, Fla
"We're learning in the playoffs that it's a different animal," Bruins coach Jim Montgomery said. "It just is.
Montgomery believes that many of the mistakes that have doomed Boston in the series are correctable, pointing to some unstructured defensive play in front of goaltender Linus Ullmark, who has started every playoff game after rotating with Jeremy Swayman almost evenly since mid-December.
But there is no more time for learning. The Bruins are the first league-leading team to be taken to a first-round Game 7 since 2011 when the Vancouver Canucks beat the Chicago Blackhawks on their way to facing Boston in the Stanley Cup Final
"They beat us to our net, they hemmed us in, and we didn't protect our net front like we usually do," Montgomery said of Friday's third period.
David Pastrnak and Tyler Bertuzzi each scored twice for the Bruins, but Florida scored four third-period goals to win, including the last three unanswered after Jake DeBrusk's shorthanded break gave Boston a 5-4 lead
While fans have called for Swayman to start Sunday, the Bruins' dressing room has full confidence with Ullmark in goal after he won a career-high and NHL-best 40 games during the regular season
As of Saturday, though, no decision had been made as to who will start in goal for Boston.
"(Ullmark is) the reason why we've had so much success this year," DeBrusk said. "It's not even a question with us, to be honest."
The Panthers also scored once in the third (Sam Reinhart) and once in overtime (Matthew Tkachuk) to help win Wednesday's Game 5 at Boston
"It shows the kind of heart and passion we have in this locker room," Panthers winger Anthony Duclair said. "There was not a single doubt in this locker room. We believed we (could) come back. Now we did, and we just have to finish the job.
In Game 6, Tkachuk (two goals, one assist) joined Carter Verhaeghe as the second Panther in as many games to log three points in an elimination game.
Tkachuk's five goals and five assists over the series lead the determined Panthers, but contributions have been received from up and down the lineup
Among Friday's six goal scorers was Zac Dalpe, a 33-year-old who netted his first career playoff goal during the late onslaught.
Sergei Bobrovsky has started the last three games in Florida's net and will look to duplicate the success he had while leading Columbus to a historic 2019 sweep of Presidents' Trophy-winning Tampa Bay.
"This is the best part of the year -- when there's the most pressure on," Florida coach Paul Maurice said. "Game 7, the obvious elimination game. You have to be able to enjoy it. You have to find a way to enjoy it."
The Panthers had to play meaningful hockey for months just to clinch the wild-card playoff position
"I think we're at our best when our backs are against the wall," Florida defenseman Radko Gudas said.
Five of Boston's 15 losses between the regular season and playoffs have come against Florida.
This time, though, it's now or never.
"You've got to welcome pressure. That's why we play the game," Bruins captain Patrice Bergeron said. "It's for those moments. I don't think that should be an issue. You have to use that to your advantage and go out there and just play.
--Field Level Media