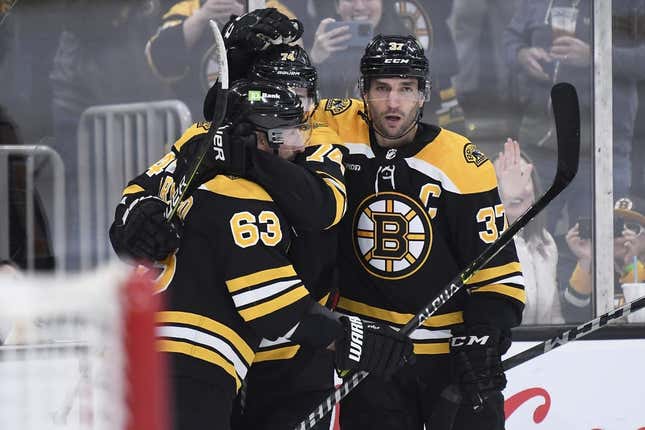 Bruins center Patrice Bergeron will participate in warmups ahead of Wednesday night's Game 5 matchup in Boston against the Florida Panthers and be "a game-time decision," according to coach Jim Montgomery
Bass' ERA stinks, but not compared to who he is off the mound | Worst of the Week Countdown
Bergeron, 37, has not played in the first round of the Stanley Cup playoffs so far due to a combination of an illness and a lingering upper-body injury.
Montgomery implied the decision will be up to Bergeron.
"As long as he feels after warmups that he feels everything's good, he's gonna play," Montgomery said at a news conference Wednesday morning.
The top-seeded Bruins have built a 3-1 lead in the best-of-seven series without their captain, who practiced with the team Tuesday and Wednesday in Boston after skating on his own while the team was in Florida for Games 3 and 4
"Today was a good day. We'll see how I feel tomorrow," Bergeron said after Tuesday's practice, which saw him skating with David Pastrnak and Tyler Bertuzzi rather than his usual linemate Brad Marchand. "I'm not anticipating any setbacks so, so far so good."
His teammates are eager to have him back on the ice as they look to wrap up the series at home Wednesday night.
"He's so important for us off the ice being our captain and our leader and our emotional guy," Taylor Hall said, "but on the ice as well. He's still such an amazing player and has such an impact."
The five-time Selke Trophy winner registered 58 points (27 goals, 31 assists) in 78 games this season, his 19th with the Bruins. Bergeron ranks third in franchise history in points (1,040), goals (427) and games (1,294)
In other Bruins' injury news, center David Krejci was ruled out for a third straight game. Montgomery said Krejci has been progressing well from the upper-body injury that has sidelined him since Game 3 but he isn't ready for game action
--Field Level Media