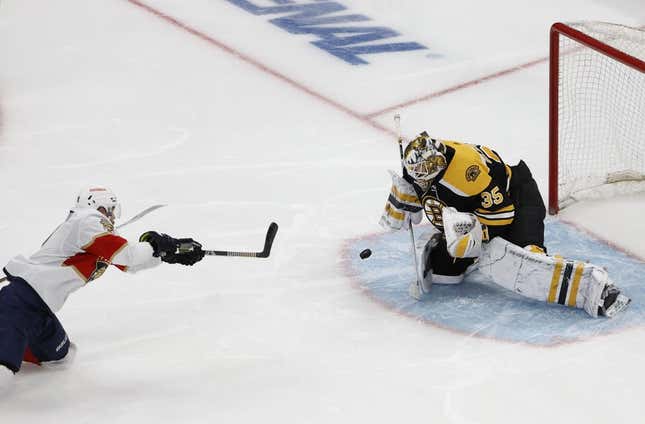 Boston coach Jim Montgomery said he will consider "changes everywhere" when the Bruins visit the Florida Panthers on Friday for Game 3 of their first-round playoff series
Bass' ERA stinks, but not compared to who he is off the mound | Worst of the Week Countdown
It is a stunning comment considering the series is tied 1-1, and one might figure that there is no reason for panic by a Bruins team that set an NHL record for most single-season wins (65) and points (135)
Yet, here we are following Florida's 6-3 win on Wednesday.
"Players didn't make the best decisions at moments," Montgomery said. "The turnovers we had were catastrophic -- right through the middle of the ice.
"We were trying to make plays when there weren't plays to be made."
No team has beaten the Bruins by four or more goals this season. The Bruins have lost by three goals five times -- twice to the Panthers. Host Florida beat Boston 5-2 on Nov. 23 in Sunrise, Fla., before pounding the Bruins again on Wednesday
The Bruins posted 43 more points than the Panthers in the regular season. However, the Bruins have played this series without their captain Patrice Bergeron, who has an upper-body injury
Bergeron, who finished second on the Bruins this season in goals (27) and third in points (58), is day to day, Montgomery said
Another issue for the Bruins is their ability to cope with Florida's ferocity. The Bruins were forced into 15 giveaways to just five for Florida on Wednesday
Panthers defenseman Radko Gudas pounded the Bruins with a game-high-tying five hits
The Bruins finished second in the NHL this season with 305 goals. But the Panthers can score, too, ranking fifth with 290 goals
Florida also split four regular-season games with Boston, and it shouldn't be a shock. After all, Florida finished the 2021-22 regular season with the best record in the NHL, and most of the players from that roster returned.
The main Panthers newcomer this season is winger Matthew Tkachuk, who set career highs in assists (69) and points (109), leading the Panthers in both categories. He also had 40 goals, which was two short of team leader Carter Verhaeghe
"We knew it would a tough task (to beat Boston)," said Tkachuk, who, along with Gudas, gives the Panthers a hard edge. "But the belief is there.
Florida's other catalyst is defenseman Brandon Montour, who set career highs in goals (16) and assists (57) in a breakthrough season. Montour, 29, was drafted in the second round by Anaheim in 2014 and traded to Buffalo five years later.
In 2021, the Panthers got Montour for a third-round pick, and that has become a steal of a deal. Montour, who scored two goals against Boston on Wednesday, set franchise records for most assists and points by a defenseman
The Panthers were helped on Wednesday by the return of forward Sam Bennett, who scored a career-high 28 goals in 2021-22. He hadn't played since March 20 due to a groin injury
Other factors in Florida's win on Wednesday included center Aleksander Barkov, who won 68.8 percent of his 16 faceoffs; defenseman Aaron Ekblad, who had a team-high four blocks; and goalie Alex Lyon, who made seven high-danger saves.
"It was fun," said Lyon, a 30-year-old who has spent most of his career in the minors. "I enjoy (the playoff) atmosphere."
--Field Level Media