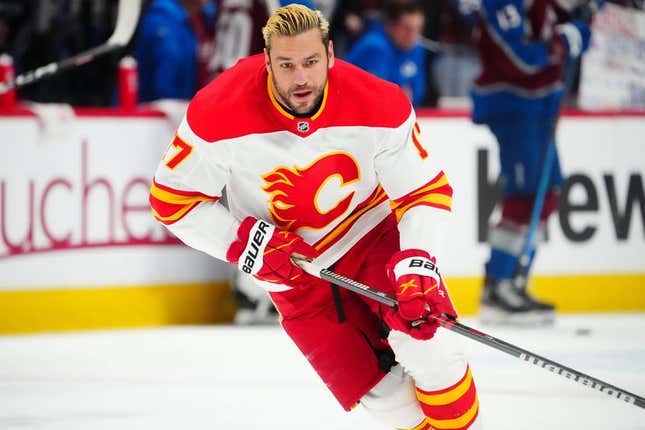 The Boston Bruins signed veteran forward Milan Lucic and four other free agents on a busy Saturday
How running an NFL team is like running a restaurant | Chef Emeril Lagasse
Forwards James van Riemsdyk, Patrick Brown and Morgan Geekie and defenseman Kevin Shattenkirk also signed with the reigning Presidents' Trophy winners.
Lucic, 35, previously played eight seasons with the Bruins (2007-15), who drafted him in the second round in 2006. He was part of their 2011 Stanley Cup championship team
He scored 19 points (seven goals, 12 assists) in 77 games with the Calgary Flames in 2022-23.
Lucic has 584 points (233 goals, 351 assists) and 1,299 penalty minutes in 1,173 games with the Bruins, Los Angeles Kings (2015-16), Edmonton Oilers (2016-19) and Flames
TSN reported that Lucic signed a $1 million deal for the 2023-24 season.
"It's really exciting for me and it's really exciting for my family," Lucic told TSN. "It's been eight years since I was a Bruin. ... My kids are older, and they get to watch me and remember me as a Bruin."
Van Riemsdyk, 34, had 29 points (12 goals, 17 assists) in 61 games with the Philadelphia Flyers in 2022-23. He has 591 points (300 goals, 291 assists) in 940 games with the Flyers (2009-12, 2018-23) and Toronto Maple Leafs (2012-18).
Brown, 31, posted four goals and eight assists in 61 games with the Flyers and Ottawa Senators in 2022-23. He has 24 points (10 goals, 14 assists) in 138 games with four teams over parts of four seasons.
Geekie, 24, tallied 28 points (nine goals, 19 assists) in 69 games last season with the Seattle Kraken. He has 63 points (22 goals, 41 assists in 180 games with the Carolina Hurricanes (2019-21) and Kraken.
Shattenkirk, 34, had 27 points (four goals, 23 assists) in 75 games with the Anaheim Ducks in 2022-23. He has 460 points (97 goals, 363 assists) in 891 career games with six teams. He was an All-Star with the St. Louis Blues in 2014-15 and won the 2020 Stanley Cup with the Tampa Bay Lightning.
--Field Level Media