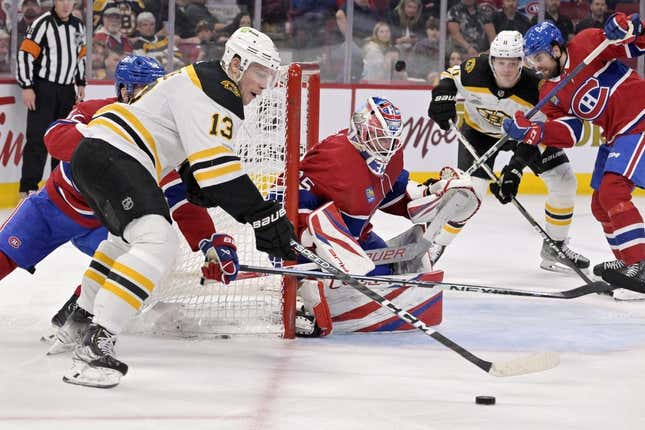 After clinching the Atlantic Division title back on March 25 and the Presidents' Trophy five days later, the Boston Bruins have played essentially meaningless hockey over the final few weeks of the regular season
A laundry list of records to achieve kept them focused, but everything that was transpiring ultimately led to what is now in front of them: the Stanley Cup Playoffs.
The Bruins' postseason quest begins Monday night in Boston with the opening of an Eastern Conference first-round series against the Florida Panthers
Florida is one of only two teams to record multiple wins against them this season, splitting the four games with the Bruins
"This is my favorite time of year," Boston forward Nick Foligno said. "You try not to be that old vet, but 16 years in, you want to get through 82 (games) to get to this point. I think we've done a great job of putting ourselves in a great position. Now it's back to zero."
This is the first opening-round series between a No. 1 overall seed and the previous season's Presidents' Trophy winner since the award for best regular-season record was first given out in 1985-86.
It has been 10 years since a Presidents' Trophy winner has hoisted the Stanley Cup, dating back to when the Chicago Blackhawks beat the Bruins in the 2013 Final
The only other postseason meeting between Boston and Florida was in the first round in 1996 when the Panthers went five games to win their first-ever playoff series and rolled all the way to their only appearance in the Stanley Cup Final
"They're a really good team, a dangerous team," Bruins coach Jim Montgomery said. "We're going to have to be at the top of our game if we want to have success. (Matthew) Tkachuk, excellent player. (Aleksander) Barkov's a stud. ... Besides that, they're a really fast team that transitions well.
Montgomery described his team as "loose" in their 5-4, come-from-behind win Thursday at Montreal. The Bruins got goals from five different players -- including David Pastrnak's 61st -- and reached the 65-win and 135-point marks
Foligno (knee) is on the cusp of returning for his first action since Feb. 28, as he and defenseman Derek Forbort practiced on both Saturday and Sunday.
Forward David Krejci and goaltender Linus Ullmark also participated.
On Sunday, however, the Bruins were without captain Patrice Bergeron (minor injury and illness) and goaltender Jeremy Swayman (illness)
On the Florida side, forward Sam Bennett (lower-body, soft tissue) is unlikely to play Monday following a 12-game absence but could return during the series.
"It's a tough injury that heals at its own rate," Panthers coach Paul Maurice said of Bennett. "There is not a lot of room on it. It just has to get better. You can't play as an NHL hockey player with it.
The Panthers are looking to become the second team in NHL history to beat a 60-win team in the opening round, joining the 2019 Columbus Blue Jackets who swept the Tampa Bay Lightning
Panthers goaltender Sergei Bobrovsky, who has two Vezina trophies, was the winner in every game of that series for Columbus, which lost to Boston in the following round
With Bobrovsky out since March 27 (illness), Alex Lyon went 6-1-1 with a .942 save percentage in that span and is likely to start Monday. The lone loss came Thursday against Carolina.
The Panthers could have avoided the matchup with Boston by winning that regular-season finale against Carolina in which both teams scored twice in the last three minutes. Florida trailed 5-2 with 2:40 remaining but scored twice in 38 seconds before Carolina iced the 6-4 win with an empty-net goal in the final minute
"We have been through this situation, battling the whole year," forward Carter Verhaeghe said. "We believe in all of the guys and we just have to go out there, play hard and have fun."
--Field Level Media