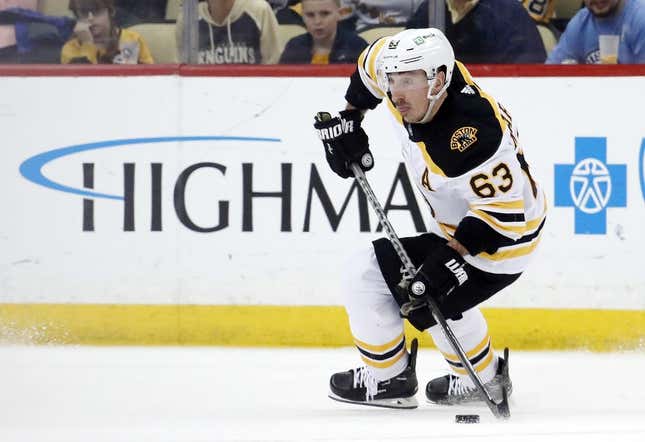 The Boston Bruins will be playing for records and the visiting Toronto Maple Leafs will try to tighten their grip on second place in their division Thursday night
Does Jimmy Butler have the best NBA Finals origin story? | Agree to Disagree
The Bruins (60-12-5, 125 points) have five games remaining to surpass the NHL record of 62 wins in a season set by the 1995-96 Red Wings and matched by the 2018-19 Tampa Bay Lightning
Also in sight is the league record of 132 points set by the 1976-77 Montreal Canadiens in an 80-game season.
When they face the Maple Leafs (46-21-10, 102 points), the Bruins will be playing for the first time since their 4-3 shootout road victory Sunday against the St. Louis Blues
The Maple Leafs defeated the visiting Columbus Blue Jackets 4-2 on Tuesday. They are second in the Atlantic Division, behind Boston and ahead of the Lightning
Boston knows the Stanley Cup is the most important goal, but left winger Brad Marchand acknowledged that the 60th victory was special.
"We've done a really good job of staying in the moment," Marchand said, "but when the year's over and careers are over and you look back, it's special to be part of a group like this and break records. Teams like this don't come together very often."
"When you think about how historic, how great this franchise has been for so long," Boston coach Jim Montgomery said, "it's amazing we're the first (Bruins) team to achieve (60 wins).
With 56 goals on the season, David Pastrnak still has a chance to reach 60.
"Maybe they could host the NHL awards in their building this year," Maple Leafs coach Sheldon Keefe said. "To me, they should be cleaning up. It has been so impressive all the way through their group and what they've done. They're so far away from the pack.
Toronto expects the return of forward Ryan O'Reilly (broken finger) on Thursday.
In defeating Columbus, Toronto had two goals from Zach Aston-Reese, giving him a career-best 10 for the season.
"Zach's scoring a lot of goals and they're the right goals for a guy like him," Keefe said. "He's not cheating, he's working for them around the net. The puck's hitting him or he's tipping them."
With O'Reilly injured, the Maple Leafs have often used seven defensemen and 11 forwards
"For the last few weeks, any time we've gone 11 forwards, we've gone with a settled top six and bottom five,' Keefe said. "Aston-Reese, (David) Kampf and those guys are out there a lot more and they're excited by it. They want to impress the coach. So, 11-7 has helped them."
With goaltender Matt Murray (head injury) out, Joseph Woll started against Columbus and made 24 saves.
"The second period was really good for him," Keefe said. "He should be confident. Last time he played Columbus in here would be one he'd want back (a 4-3 loss). This was a bit of a do-over and a good day for him. (Goaltender coach) Curtis Sanford loves working with him, his talent and athleticism. There's a lot there."
Ilya Samsonov is expected to start Thursday with Woll as the backup.
Boston is in a position to rest players, but Marchand does not want to be one of them.
"I'd rather play the games and feel good going into the playoffs," he said. "The more games I play, it's going to benefit me. I've missed enough this year."
--Field Level Media