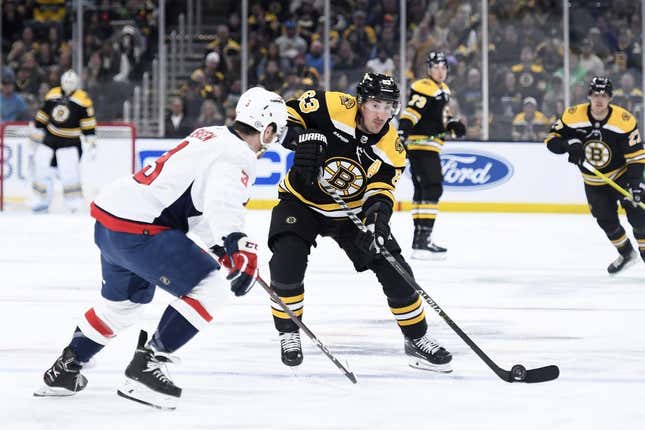 Brad Marchand had a goal and two assists as the Boston Bruins continued their record-breaking season with a 5-2 win over the visiting Washington Capitals on Tuesday night
Bass' ERA stinks, but not compared to who he is off the mound | Worst of the Week Countdown
A game after setting the NHL single-season standard for wins, Boston (64-12-5, 133 points) passed the 1976-77 Montreal Canadiens and 1995-96 Detroit Red Wings for the most points in a single season in league history.
Tomas Nosek also had a goal and an assist while David Pastrnak had two assists to help Boston to its seventh straight win.
Pastrnak joined Edmonton's Connor McDavid as the second NHL player to record 60 goals and 50 assists this season.
Boston's Garnet Hathaway, Tyler Bertuzzi and Jake DeBrusk also scored.
Linus Ullmark became the fastest NHL goalie ever to 40 wins in a season, making 19 saves before exiting in the third period due to an apparent lower-body injury. Jeremy Swayman entered and stopped all six shots he faced.
Ullmark (40-6-1), who was making his 49th appearance of the season, topped the mark set by Braden Holtby with the Capitals in 2015-16. Holtby reached 40 wins in 52 games
The Bruins had a 44-27 shots advantage and went 2-for-2 on the power play
Nick Jensen and Tom Wilson tallied for Washington (35-37-9, 79 points), which is 1-6-1 in its past eight games.
Charlie Lindgren (33 saves) also left the game in the third period. Darcy Kuemper finished up, making six saves on seven shots.
After nearly 30 scoreless minutes, the Bruins broke the ice with Marchand's man-up goal at the 8:32 mark of the second period. Pastrnak slipped a pass through the slot and found his fellow winger for a one-timer low in the right circle. It was Marchand's first goal since March 9
Boston's power play clicked again at 14:20 of the first. Bertuzzi quickly slammed home a loose puck that popped back into the slot after Pastrnak put a long shot on goal.
The Capitals trimmed the deficit just 1:07 later as Jensen's shot from above the circles took a deflection off Bruins defenseman Charlie McAvoy on the way past Ullmark
Boston led 2-1 after two periods and had a golden chance to extend the score early in the third, but Lindgren robbed Pavel Zacha with a barehanded save at the left post.
At 4:13 of the third, Nosek took advantage of a turnover in the slot and sniped home an insurance goal to make it a 3-1 game. It was his 100th career point in his eighth season.
With Kuemper in, the Capitals made it 3-2 as Wilson buried a loose puck in front for a power-play goal at 7:13
Boston cushioned its lead again in the same minute. At 7:49, Nosek dished a perfect saucer pass to Hathaway driving down the slot.
DeBrusk capped the scoring on an empty-netter at 18:11.
--Field Level Media