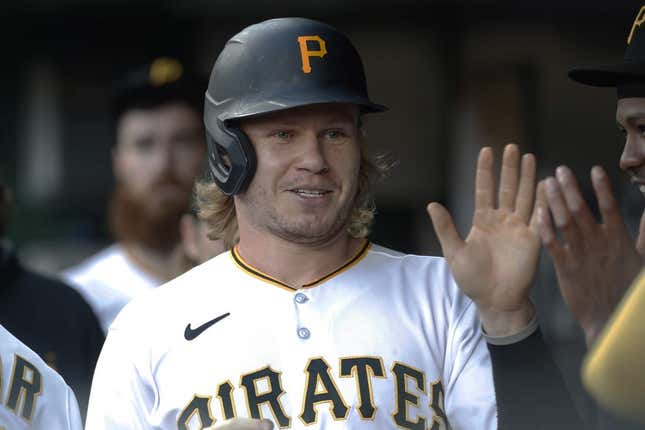 Bryan Reynolds was 3 for 4 with a homer helping the Pittsburgh Pirates down the visiting Washington Nationals 7-6 Wednesday.
How running an NFL team is like running a restaurant | Chef Emeril Lagasse
Ke'Bryan Hayes and Alfonso Rivas each hit an RBI double, with Jack Suwinski, Joshua Palacios and Liover Peguero added RBI singles for the Pirates (68-78).
Pittsburgh's Colin Selby pitched one inning as an opener, giving up one run and two hits.
Quinn Priester (3-2) followed and pitched into the sixth, yielding four runs and four hits.
David Bednar gave up a run in the ninth but got his 34th save.
Dominic Smith and Drew Millas homered, while Lane Thomas and Kiebert Ruiz added RBI singles for the Nationals (65-81).
Washington starter Jackson Rutledge (0-1), making his major league debut, allowed seven runs and 10 hits in 3 2/3 innings.
In the first, Smith hit a two-out double to right and scored on Joey Meneses' single to right for a 1-0 Nationals lead.
Ji Hwan Bae singled to center in the bottom of the first, went to second on Reynolds' single to left and scored on Hayes' double to right to tie it. Suwinski's single to right drove in Reynolds. An out later, Hayes scored on Palacios' single to right. Peguero's single to left brought Suwinski home and made it 4-1.
In the third, Palacios singled up the middle, went to second on a wild pitch and scored on Rivas' double to right to make it 5-1.
Bae walked in the fourth, stole second and went to third when the throw from the catcher Millas plunked Rutledge on the back of the head as the 6-foot-8 pitcher crouched and ricocheted into right for an error. Rutledge remained in. Reynolds, the next batter, hit his 21st homer to right to make it 7-1.
In the fifth, Millas homered to right-center, the first of his career, cutting the lead to 7-2.
CJ Abrams walked in the sixth and scored on Thomas' double to left. Smith hit his ninth homer to right, to slice it to 7-5.
Travis Blankenhorn walked, went to third on Luis Garcia's single to right and scored Ruiz's pinch-hit infield single in the ninth to cut it to 7-6. Bednar retired three of the next four batters to preserve the lead and get out of the jam.
—Field Level Media