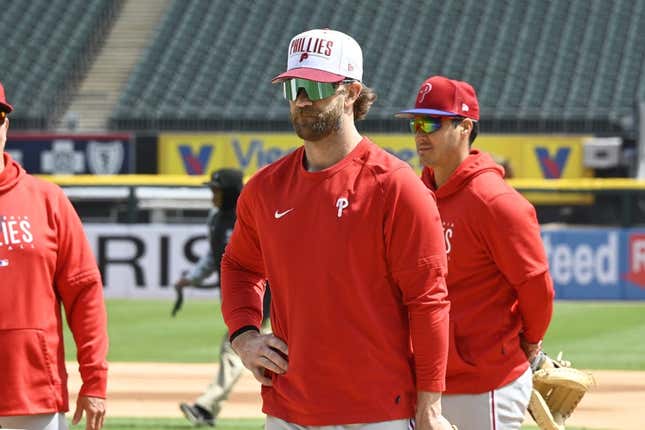 Philadelphia Phillies slugger Bryce Harper is ahead of schedule in his rehab from Tommy John surgery and could return to the lineup as soon as Tuesday in a game at the Los Angeles Dodgers
Does Jimmy Butler have the best NBA Finals origin story? | Agree to Disagree
Harper has an appointment on Monday with Dr. Neal ElAttrache, an orthopedic surgeon who serves many pro athlete clients. If ElAttrache clears him, Harper will be able to make his season debut in Los Angeles.
The two-time National League MVP had surgery on his right elbow in November and the Phillies had hoped he'd be back sometime before the All-Star break
The Phillies avoided putting Harper on the 60-day injured list at the outset of the 2023 season, though an early May return exceeded all expectations
"He's pretty geeked up about getting out there and playing," Phillies manager Rob Thomson told reporters before the Phillies' series finale at the Houston Astros Sunday night. "He's itching.
The Phillies plan to use Harper as a designated hitter once he returns so he doesn't have to use his arm throwing balls from the outfield. The team has also been working him out at first base in case he can return to the field there at some point this season, though outfield play has mostly been ruled out for 2023
Harper won MVP in 2015 with the Washington Nationals and in 2021 with the Phillies. In four seasons since signing a megadeal with the Phillies in February 2019, Harper has batted .282 with 101 home runs and 296 RBIs. He has a career .280 batting average and a .523 slugging percentage with 285 homers and 817 RBIs in 1,382 career games over 11 major league seasons
Harper played in 99 games last season and was named an All-Star for the seventh time, but he was diagnosed with a partially torn UCL in his throwing arm in May and played through it -- again as a DH. He also suffered a fractured thumb and missed most of July and August following surgery. He came back in time for the stretch run and helped the Phillies reach the World Series, where they fell to the Astros
Harper batted .286 in 2022 with 18 home runs, 28 doubles and 65 RBIs.
--Field Level Media