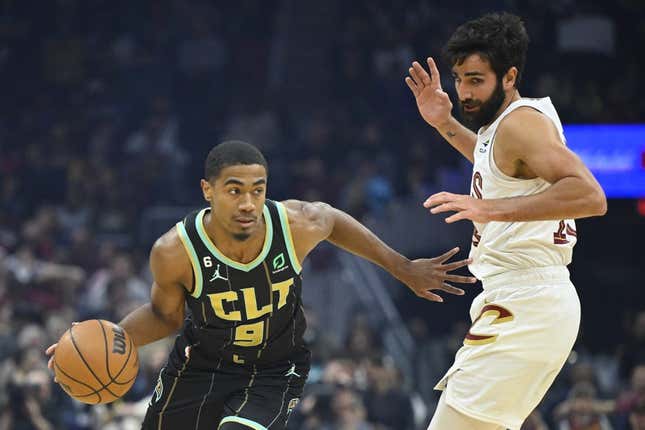 Bryce McGowens and Mark Williams both scored career highs with 22 points apiece, fueling the Charlotte Hornets to a 106-95 road win versus the Cleveland Cavaliers on Sunday in the regular-season finale for both teams
Charlotte (27-55) missed its first 24 attempts from 3-point range, a drought that did not end until James Bouknight connected with 1:59 to go in the third quarter.
The Hornets came alive offensively shortly after Bouknight's 3-pointer. They went on a 20-6 run to start the fourth quarter to take a lead they maintained for the rest of the contest
Six Charlotte scorers reached double-digit scoring, including Theo Maledon with 18 points on 7-of-13 shooting from the floor. Svi Mykhailiuk added 16 points, Bouknight finished with 12 off the bench and Nick Richards added 11 points, eight rebounds and three blocked shots.
Williams, who shot 9-of-10 from the floor to power his career-best scoring day, also recorded a double-double with a game-high 10 rebounds and blocked two shots.
Cleveland (51-31) was without Donovan Mitchell, Isaac Okoro and Darius Garland as its three-game winning streak came to an end. Evan Mobley and Jarrett Allen played 12 minutes each but sat the rest of the way.
Sam Merrill led the patchwork Cavaliers' lineup with 17 points off the bench. Merrill, Danny Green and Dean Wade each made three 3-pointers, and Green and Wade finished with 13 and nine points
Wade was 3-of-4 as the Cavaliers finished 10-of-37 from beyond the arc as a team. Raul Neto added 13 points and Robin Lopez scored 10, both coming off the bench, as Cleveland wrapped up its best regular-season record in six years
The Cavaliers now switch gears for a first-round playoff matchup with New York. Cleveland is the Eastern Conference's No. 4 seed, and the Knicks are No. 5
--Field Level Media