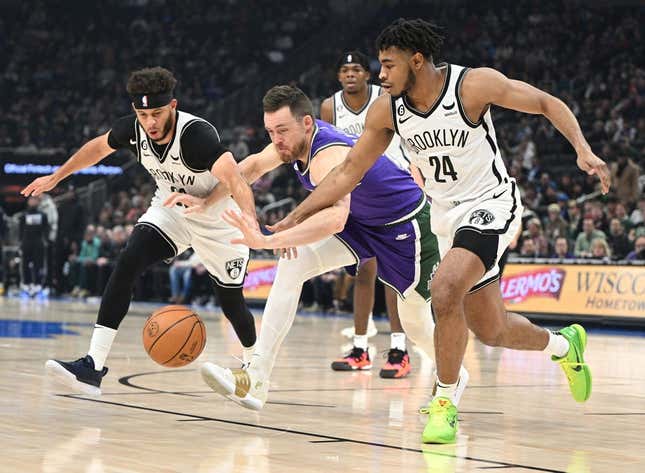 Bobby Portis led all players with 28 points and 13 rebounds, and Brook Lopez added 24 and 10 as the short-handed Milwaukee Bucks took down the visiting -- and likewise shorthanded -- Brooklyn Nets 118-113 on Thursday.
How running an NFL team is like running a restaurant | Chef Emeril Lagasse
Lopez also finished with a career-high nine blocks, the most by a player in an NBA game this season. Grayson Allen finished with 19 points while Jrue Holiday and Khris Middleton each had 11. The balanced contributions were particularly key with Giannis Antetokounmpo out of the lineup with right hand soreness.
Brooklyn was led by Patty Mills with 23 points and Cam Thomas with 21 -- both players coming off the bench. Mikal Bridges, who averaged more than 26 points per game since being acquired from Phoenix, was limited to just 10 points on 4-for-13 shooting.
Milwaukee was in control early on, scoring 37 points in the first quarter thanks to nine 3-pointers, the most in a first quarter for Milwaukee this season. The Bucks finished the first half with a 64-47 halftime lead thanks in large part to a 14-for-32 showing from deep. Brooklyn, meanwhile, shot only 32 percent from the floor in the first half.
The Nets would not go away easily in the second half, however, outscoring Milwaukee 33-23 in the third quarter and holding the Bucks without a made 3-pointer in the quarter until the 2:35 mark. Brooklyn trailed by just seven entering the fourth.
Later on in the fourth, the Nets went on a 6-0 run to bring their deficit to just three, 96-93, with 6:38 left in the game. They remained close until the final seconds, when Lopez's ninth block -- with the Bucks up four and 22.8 seconds left -- sealed the win for Milwaukee.
Milwaukee won the four-game season series 3-1. The Bucks also won their third straight and have won 19 of their last 20 games. Brooklyn, who was without Ben Simons, Nic Claxton, Spencer Dinwiddie, Cameron Johnson and Royce O'Neale, saw its three-game win streak snapped.
--Field Level Media