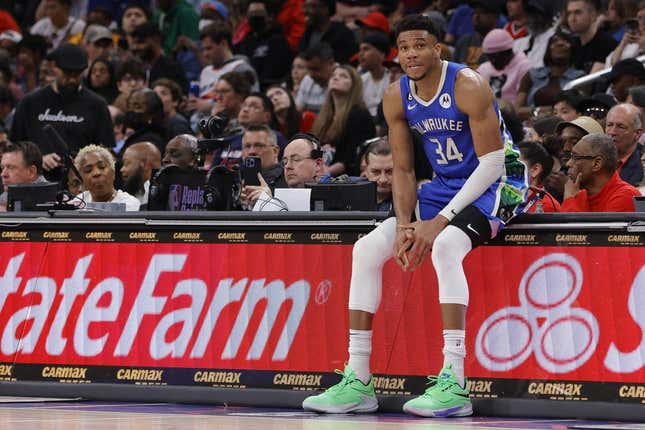 The Milwaukee Bucks will look to clinch the No. 1 seed in the Eastern Conference on Wednesday night when they host the Chicago Bulls
Aaron Rodgers should go full Joe Namath | Comedian Bert Kreischer
The Bucks (57-22) will be playing the second night of a back-to-back after recording a 140-128 victory over the Washington Wizards on Tuesday. Giannis Antetokounmpo led Milwaukee with 28 points and 10 assists and added 11 rebounds
Antetokounmpo, however, slightly downplayed the significance of having home-court advantage and talked up several other Eastern Conference teams.
"At the end of the day, Boston is a beast, Philly is a beast, Cleveland is a beast, New York is a beast," Antetokounmpo said.
Bucks coach Mike Budenholzer, in turn, was just happy to with the one-game-at-a-time approach
"These games, you got to have a good focus and come out of halftime ready," Budenholzer said. "Lot of good play all up and down the roster, we shot it well. The guys had good focus and got an important win for us."
Chicago (38-41) has clinched a berth in the play-in tournament and appears to be destined for the No. 10 spot. The Bulls could meet up with Milwaukee in the first round should they advance to the first round
Chicago is coming off a 123-105 loss at home against the Atlanta Hawks on Tuesday night. The Bulls' Zach LaVine scored 26 points, DeMar DeRozan had 21 and Nikola Vucevic collected 19 points and 10 rebounds
"We had a rough shooting night from three -- that happens -- but we could be a lot better defensively," Bulls coach Billy Donovan said. "We competed, but we did not compete at the level that was good enough to win the game. That's the bottom line. That part of it is disappointing.
Antetokounmpo leads the Bucks in scoring (31.1 points a game) and rebounding (11.8) this season. Jrue Holiday has a club-best 7.2 assists and 1.2 steals per game, while Brook Lopez averages 2.5 blocks
The Bulls are led in scoring by LaVine and Derozan with 25.1 and 24.9 points per game, respectively. Derozan also leads in assists (5.1), while Vucevic grabs 11.1 rebounds per contest
"Every one of these games is a must-win game for us," LaVine said. "Obviously we didn't do good enough. They wanted it more than us. It's tough to have that type of result at this point in the season.
The Bucks expect Khris Middleton to be able to play despite missing Tuesday's game to manage his return from a knee injury. Pat Connaughton will be doubtful for Wednesday's game, according to Budenholzer, after he sustained a right ankle sprain on Monday. Grayson Allen is not expected to play Wednesday because of an ankle injury
The Bulls are looking to clinch the season series against their I-94 rival for the first time since the 2015-16 season. They won the first two matchups this season, including one in overtime, but the Bucks bounced back with a 112-100 victory on Feb. 16
--Field Level Media