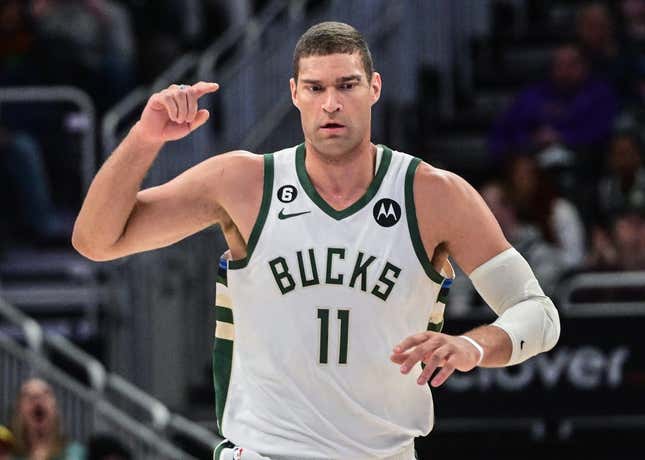 Milwaukee Bucks center Brook Lopez was named the winner of the 2022-23 Bob Lanier Community Assist Award on Wednesday
How running an NFL team is like running a restaurant | Chef Emeril Lagasse
Lopez, 35, was recognized for his support of youth literacy programs in Milwaukee.
The winner was determined by an NBA executive panel and a 12-day fan voting period from a pool of 10 finalists.
With his "Blocks for Books" program and other initiatives, Lopez contributed $235,000 to the effort in 2022-23.
"Reading is a personal passion of mine that brings me joy and has played a key role in my success," Lopez said. "Throughout my career, I have remained committed to supporting youth literacy initiatives because I know firsthand how important this skill is. Whether at home, in the locker room or on the road, reading has always played a significant role in my life. I want to ensure future generations are able to develop this skill too and fall in love with reading just as I have, especially kids in economically disadvantaged schools and communities."
Lopez averaged 15.9 points and 6.7 rebounds and led the NBA with 193 blocked shots in 78 games (all starts) in his fifth season with the Bucks in 2022-23
The award is named after Lanier, a Hall of Fame center and eight-time All-Star who played four-plus seasons with the Bucks from 1980-84
"To be the recipient of the Bob Lanier Community Assist Award for my efforts in uplifting youth literacy in Milwaukee is truly an honor," Lopez said. "Bob Lanier was committed to giving back in the Milwaukee community, so to be able to bring this award back to Milwaukee means so much to me and the Bucks organization.
--Field Level Media