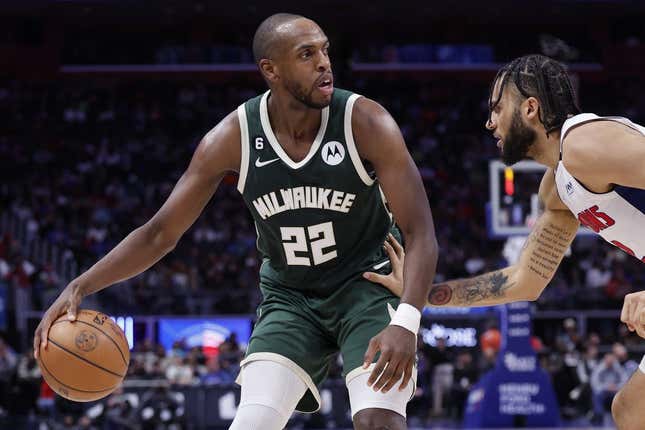 After a statement win Sunday, the Milwaukee Bucks headed out for a brief one-game road trip to take on the host Washington Wizards on Tuesday night
Bass' ERA stinks, but not compared to who he is off the mound | Worst of the Week Countdown
Milwaukee (56-22) took down the Philadelphia 76ers 117-104 at home Sunday thanks to a 33-point, 14-rebound effort from Giannis Antetokounmpo.
Brook Lopez added 21 points and six boards, while Jrue Holiday (18 points), Bobby Portis (18) and Khris Middleton (19) all contributed to the offense. The Bucks shot 57.5 percent in the game, while making 10 of 28 (35.7 percent) from 3-point range
"Whenever the balls moving, good things happen for us," Bucks coach Mike Budenholzer said. "I thought Khris set a good tone for us offensively, he was in a good rhythm right from the beginning.
Middleton, who had 10 points on 4-of-7 shooting in the first quarter, finished the game with a team-high nine assists.
Washington (34-44) is coming off a 118-109 loss on the road against the New York Knicks, which eliminated the Wizards from postseason contention. Corey Kispert led the way for the Wizards with 29 points while rookie Johnny Davis added 16
"Thought (Davis) played well. He was good defensively, made some plays late," Wizards coach Wes Unseld Jr. said. "Give him credit, he's trying to play the right way. He's showing more discipline and it's a big step for him.
Antetokounmpo leads Milwaukee with 31.1 points, shooting 55.3 percent from the field, while adding 11.8 rebounds per game. Holiday paces the team in assists and steals with 7.2 and 1.2 respectively while Brook Lopez averages 2.5 blocks per game.
Washington is led by Kristaps Porzingis with 23.2 points, 8.4 rebounds and 1.5 blocks per game but he has missed the last two games with a non-COVID illness.
Bradley Beal also averages 23.2 points but over 50 games for Washington, compared to 65 for Porzingis. But Beal hasn't played in the past six games and there is speculation that he could be done for the season with the Wizards out of postseason contention. Kyle Kuzma is just behind that duo at 21.2 a game
Milwaukee's Grayson Allen has been ruled out of Tuesday's game with a right ankle sprain.
The Bucks look to clinch the season series against Washington. After the Wizards handily won the first matchup of the season 118-95 on Jan. 1 at Milwaukee, the Bucks rebounded to win 123-113 at home two days later. Milwaukee won again 117-111 at Washington on March 5 when Antetokounmpo had 23 points
Milwaukee has won the season series against the Wizards in every campaign since 2017-18
Going into NBA play Monday, the Bucks' magic number to clinch the No.1 seed in the Eastern Conference was three. Milwaukee sat two games ahead of Boston with four games left in the regular season for each. The Bucks and Celtics do not meet again in the regular season
Washington will miss the playoffs for the second season in a row as they currently sit four games behind the Chicago Bulls for the 10th and final play-in spot.
Milwaukee will see the Bulls on Wednesday night in a game that could be a preview for a first-round playoff series. The Bulls would still have to maneuver through the play-in tournament to make that first-round matchup happen.
--Field Level Media