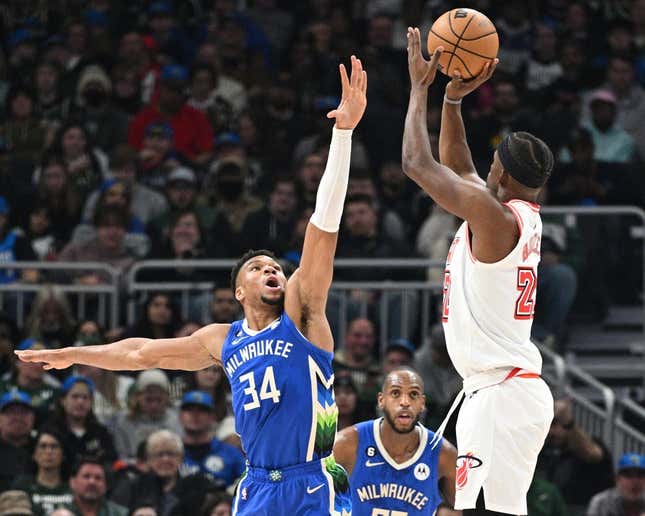 Milwaukee Bucks forward Giannis Antetokounmpo is listed as questionable with his lower-back injury for Monday's pivotal Game 4 against the host Miami Heat
Bass' ERA stinks, but not compared to who he is off the mound | Worst of the Week Countdown
Miami star Jimmy Butler (gluteus) also is listed as questionable after being injured during the Heat's 121-99 home win on Saturday. That victory gave eighth-seeded Miami a 2-1 edge in the best-of-seven Eastern Conference first-round series
Antetokounmpo has sat out the last two games after being injured in Game 1 and the top-seeded Bucks split the contests
Milwaukee coach Mike Budenholzer said Antetokounmpo didn't practice Sunday but was able to do individual work. Budenholzer said the team will continue to monitor the health of the two-time league MVP.
"He always wants to make himself available, he does everything to make himself available," Budenholzer said. "He wants to play, but I think there's also a maturity for Giannis and an understanding and a growth that we just respect and I think he respects us."
As for Butler's injury, Heat coach Erik Spoelstra downplayed the severity on Sunday while Butler declined comment
"Jimmy looked like Jimmy, and he's doing a lot of treatment," Spoelstra said.
Heat center Bam Adebayo (left hamstring) is listed as probable
Miami also received the verdict on Victor Oladipo and the veteran guard was diagnosed with a torn patellar tendon in his left knee. He was injured in a scary manner on Saturday and is done for the season. Miami previously lost guard Tyler Herro (broken hand) in this series.
Bucks guard Wesley Matthews (calf) will miss his third straight contest
--Field Level Media