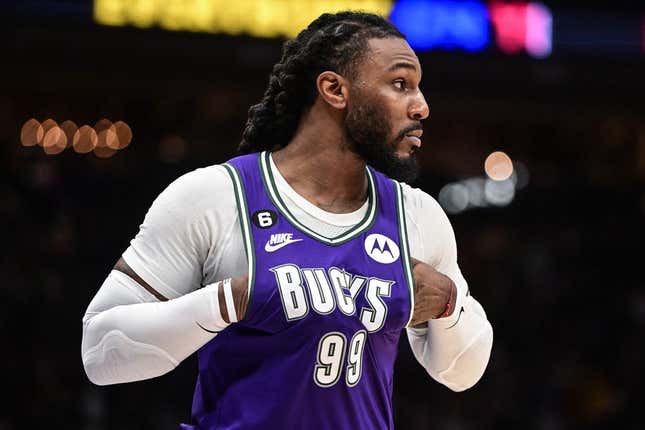 The visiting Milwaukee Bucks and the Toronto Raptors know where they will finish in the standings before they complete the regular season against each other Sunday afternoon
Air Jordans are more American than McDonald's French fries | Deon Cole's Ultimate Sports Fantasy
The Bucks (58-23) clinched the No.1 seed in the Eastern Conference this week and will have home-court advantage throughout the playoffs
The Bucks' status was reflected in their depleted starting lineup Friday in a 137-114 home loss to the Memphis Grizzlies
The Raptors (40-41) will finish ninth in the East and will be home for the must-win play-in game against the 10th-place Chicago Bulls on Wednesday
The Raptors lost any chance of moving up to eighth place with their 121-102 road loss Friday to the short-handed Boston Celtics, who had already clinched second in the East
Milwaukee has won all three meetings with Toronto this season.
In their game against the Grizzlies, the Bucks were without Giannis Antetokounmpo (knee), Khris Middleton (knee), Jrue Holiday (rest), Brook Lopez (rest), Pat Connaughton (ankle) and Grayson Allen (ankle). Bobby Portis and Joe Ingles were in uniform but did not play while Wesley Matthews played six minutes
Milwaukee used a starting lineup of Lindell Wigginton, A.J. Green, Jae Crowder, MarJon Beauchamp and Meyers Leonard. Green left with a sore right foot in the second quarter and did not return.
Wigginton, who is on a two-way contract with the Bucks, had 25 points and 11 assists in 41 minutes
"It was a great opportunity for Lindell," Bucks coach Mike Budenholzer said. "We've had him as part of the program for it feels like two years. What he brings, he brings a toughness, a competitiveness. He makes shots, gets to the paint. He's somebody we really like.
Said Wigginton: "I work on my game every day. That's what gave me the confidence. My coaches and teammates, they keep me confident. They tell me just to be me. They know I can go out there and do that. It was just another matchup for me. Just going at my defender."
Crowder finished with 24 points in 24 minutes.
"It's about getting a rhythm," Crowder said. "Playing and feeling good going into the postseason. Like I said, I'm taking these (final) two games (of the regular season) seriously. Any time I'm on the court, I'm trying to do better. Trying to get better within our offense and within our defensive schemes. That's all it was tonight, just being aggressive."
The Raptors trailed by as many as 26 points against the Celtics
Boston was without Jaylen Brown (finger), Marcus Smart (neck) and Malcolm Brogdon (back). Jayson Tatum played 20 minutes and only in the first half.
The Raptors did not shoot well, a season-long problem
They shot 43 percent (40 of 93) from the field, including 29 percent (9 of 31) from 3-point range. In the first half, Toronto shot 30 percent (15 of 50).
"We just made some bad choices (offensively) and that's when it got tough," Raptors coach Nick Nurse said. "We were really hurt in transition on some of those. Not getting back, or if we were back, it was a quick, early drive at the rim or out to a 3. We just weren't rotating out very good.
"Boston is one of the best defensive teams in the league for a reason," said Fred VanVleet, who had 12 points on 3-of-11 shooting from the field on Friday. "So I usually just focus on, like, what shots are we generating and tonight, you know, not great in terms of flow and rhythm and energy."
--Field Level Media