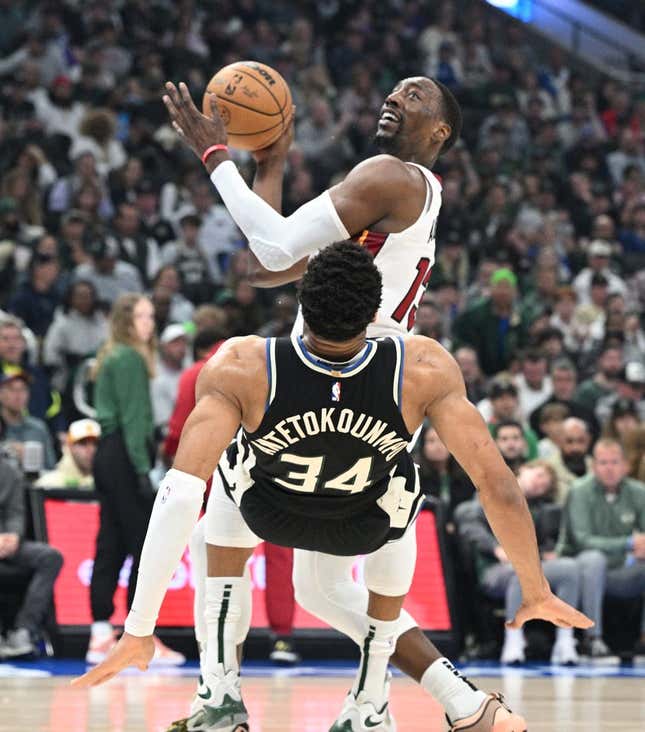 Milwaukee Bucks star forward Giannis Antetokounmpo should benefit from a two-day break between the first two games in the first-round series with the Miami Heat
Air Jordans are more American than McDonald's French fries | Deon Cole's Ultimate Sports Fantasy
Bucks coach Mike Budenholzer voiced optimism about Antetokounmpo's status for Game 2 on Wednesday. Milwaukee lost to the No. 8 seed Heat, 130-117, on Sunday
Antetokounmpo left Game 1 in the second quarter Sunday after sustaining a lower back contusion.
"He's still sore, but I think -- progress," Budenholzer said Monday. "He's getting some treatment. I think we'll just continue to monitor him for the next whatever, 24 (hours), next day or two. Probably fortunate two days between games. Still I think mostly positive. Mostly optimistic. But we'll see how he feels over the next day or two."
X-rays taken Sunday night were negative and Budenholzer said on Monday the MRI exam was also clear.
Game 2 of the series is Wednesday night in Milwaukee. Miami will be without guard Tyler Herro, who broke his hand in Game 1.
Antetokounmpo, a finalist for the league MVP award, fell to the floor hard after being fouled with 4:13 left in the first quarter. He made one of the two ensuing free throws and stayed in the game before going to the locker room with 1:46 left in the period.
He re-entered the game with 9:56 left in the second quarter, but returned to the locker room less than two minutes later. Later in the quarter, Milwaukee announced that he would not return for the rest of the night.
"He just wasn't moving, didn't look comfortable, confident, so it felt like the right thing" to remove him, Budenholzer said.
Antetokounmpo, a two-time MVP winner, had six points and three rebounds in 11 minutes.
--Field Level Media