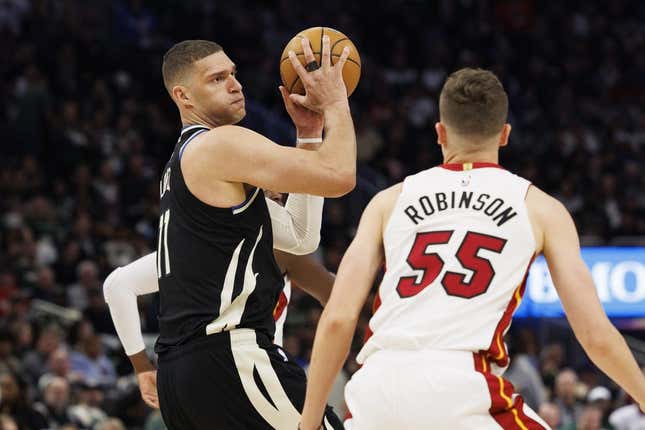 The Milwaukee Bucks are cautiously optimistic that star Giannis Antetokounmpo could be available for Game 3 of their Eastern Conference first-round playoff series against the host Miami Heat on Saturday
Air Jordans are more American than McDonald's French fries | Deon Cole's Ultimate Sports Fantasy
Milwaukee evened the series at one victory apiece with a 138-122 win in Game 2 on Wednesday. Antetokounmpo missed the contest due to a lower back contusion that occurred in the Bucks' 130-117 loss in Game 1 on Sunday
"He's continued to improve," Bucks head coach Mike Budenholzer said before the two-time MVP was ruled out for Game 2. "But organizationally, talking and working with him and the sports performance group, a decision was made. We'll continue to monitor him, expect for him to improve and still continue to be optimistic that soon he'll be ready to play.
The series heads to Miami after the Bucks turned in a dominant performance in Game 2. Brook Lopez scored 25 points, Jrue Holiday added 24, and reserve Pat Connaughton scored a playoff career-high 22 points while shooting 6 of 10 from 3-point range
Even if Antetokounmpo is forced to miss Game 3, the Bucks have proven they can thrive without their star. Seven Milwaukee players scored in double figures on Wednesday, including Joe Ingles (17), Grayson Allen (16), and Khris Middleton (16)
"Our team has the ultimate confidence in each other and we know how Giannis is," Holiday said. "We know Giannis is going to try to make that Superman effort and come back and play 48 minutes and do what he does, but, like I said, we can hold down the fort until he comes back."
Miami returns home after securing the desired road split, but coach Erik Spoelstra knows his team needs a better defensive effort after allowing Milwaukee to shoot 25 of 49 (51.0 percent) from 3-point range in Game 2.
"It was kind of all over the place," Spoelstra said. "There were some that were just wide open. We didn't have the appropriate awareness and close outs and efforts to get to 3-point shooters. And then we had some good ones. But they were already on a roll. And then there was our fair share of glitches on some schematics. But they jumped us. You have to give them credit for that."
Heat guard Duncan Robinson started in place of Tyler Herro, who is likely out for the rest of the series after breaking his right hand in Game 1. Robinson managed eight field-goal attempts and finished with 14 points
"I haven't started in a while so it's definitely a little bit of an adjustment," Robinson said. "Whatever they need me to do, I'm happy to do. Playing with those guys, just trying to gain a rhythm as a group missing Tyler. That group has been starting for a little while now. They had some connectivity. So we'll try to get it right."
Jimmy Butler has averaged 30.0 points in the first two games for Miami, but the team has struggled to find consistent scoring options with Herro sidelined. Miami also needs to figure out how to slow down Lopez after the 7-footer shot 12 of 17 (70.6 percent) from the field in Game 2.
Miami's focus on Lopez allowed Milwaukee to find plenty of open shots from the perimeter in Game 2. The Bucks' 25 3-pointers tied for the most made 3s in a game in NBA playoff history
--Field Level Media