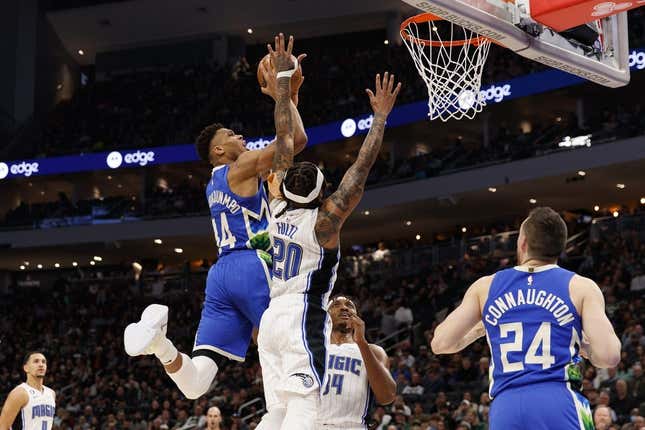 Giannis Antetokounmpo collected 31 points, seven rebounds and six assists to fuel the streaking Milwaukee Bucks to a 139-117 victory over the visiting Orlando Magic on Wednesday.
Antetokounmpo made 10 of 14 shots from the floor to send the Bucks to their 16th win in a row overall and 11th straight victory at home. Milwaukee sits four wins shy of matching its franchise record overall win streak, set during the 1970-71 season.
Jrue Holiday contributed 23 points and nine assists and Brook Lopez added 18 points for the Bucks, who shot 52.1 percent from the floor (49 of 94) and 46.4 percent from 3-point range (26 of 56). The 26 3-pointers established a season high for Milwaukee.
Lopez, Joe Ingles, AJ Green and Grayson Allen each drained four 3-pointers, while Pat Connaughton and Antetokounmpo sank three shots apiece from beyond the arc for the Bucks.
Orlando's Cole Anthony scored a season-high 28 points off the bench and Markelle Fultz recorded 21 points, seven rebounds and five assists. Wendell Carter Jr. had 19 points and 10 rebounds and Franz Wagner added 18 points for the Magic, who have lost 13 in a row to the Bucks.
Milwaukee made 15 of 26 attempts from 3-point range to build a 76-66 lead at halftime. The Bucks finished the second quarter on a 14-6 run, highlighted by 3-pointers from Ingles and Jae Crowder.
Milwaukee kept its foot on the gas to start the third quarter, with Holiday setting up Antetokounmpo for an alley-oop before adding a dunk of his own as part of a 12-4 surge.
The Bucks pushed their advantage to 117-101 after Antetokounmpo swatted away a shot by Wagner before throwing down a two-handed dunk with 9:40 remaining in the fourth quarter. Milwaukee was not seriously threatened the rest of the way.
The Bucks played without Khris Middleton (right knee injury management) and Wesley Matthews (right calf strain), while the Magic's Jonathan Isaac missed his third straight game due to a strained right hamstring.
--Field Level Media