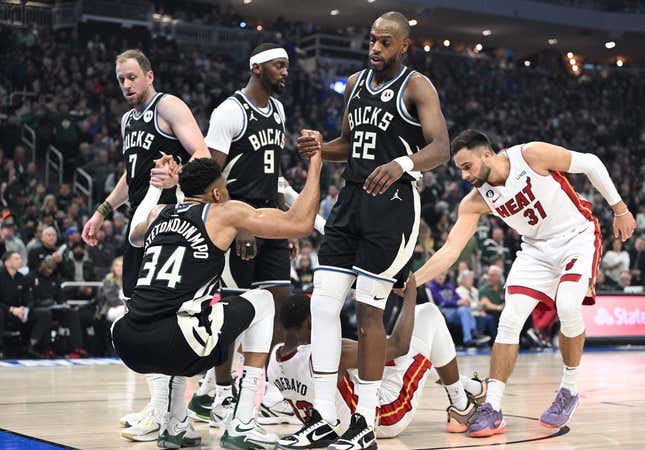 Bucks forward Giannis Antetokounmpo was upgraded from doubtful to questionable hours before Game 2 of the first-round Eastern Conference playoff series with the Miami Heat in Milwaukee on Wednesday
Air Jordans are more American than McDonald's French fries | Deon Cole's Ultimate Sports Fantasy
The official team injury report released on gameday comes as Bucks head coach Mike Budenholzer transparently implied the two rest days between games 1 and 2 in the series was working in Milwaukee's favor
"I mean, I think if I'm being honest, I think there is an optimism (that Giannis Antetokounmpo will play in Game 2). Time is a little bit on our side, but I think that equation will flip, so yeah, I would say we're optimistic," Budenholzer said Tuesday night.
Milwaukee lost to the No. 8 seed Heat, 130-117, on Sunday, and Antetokounmpo exited in the first half after landing on his lower back on a drive to the basket.
He was fouled with 4:13 left in the first quarter, made one of the two ensuing free throws and stayed in the game before going to the locker room with 1:46 left in the period.
He re-entered the game with 9:56 left in the second quarter, but returned to the locker room less than two minutes later.
Heat coach Eric Spoelstra said Miami prepared for both scenarios -- including a full-strength Giannis -- in film sessions before Game 2.
Miami is without guard Tyler Herro due to a fractured right hand. He was injured in Game 1 and officially ruled out on the injury report.
Point guard Kyle Lowry is questionable with left knee soreness but said Wednesday he's ready to go "with no limitations."
--Field Level Media