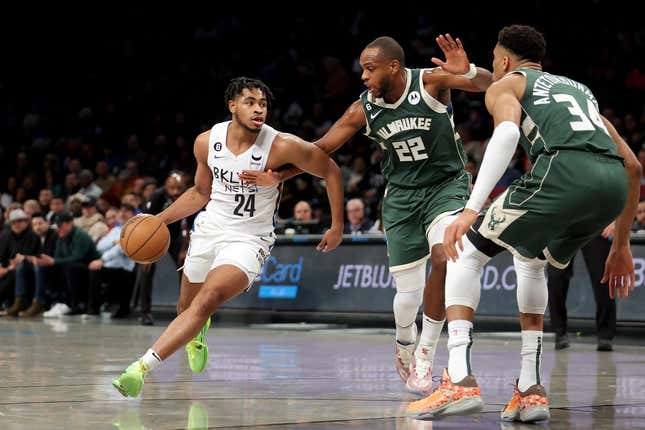 Giannis Antetokounmpo totaled 33 points and 15 rebounds as the visiting Milwaukee Bucks extended their winning streak to 15 games by rallying for a 118-104 victory over the Brooklyn Nets on Tuesday night in New York.
The Bucks are on their fifth 15-game winning streak in team history and second in four seasons after winning 18 straight Nov. 10-Dec. 14, 2019.
After missing Sunday's three-point win over Phoenix due to a leg injury and playing 15 combined minutes in his previous two games due to injuries, Antetokounmpo scored only four points in a first quarter that saw the Bucks down by as many as 15. He then scored 23 over the next two quarters, though the Bucks regained the lead without him sitting with foul trouble.
Antetokounmpo picked up his fourth foul with 5:04 left in the third and the Bucks trailing 78-73. After he went to the bench, the Bucks outscored the Nets 18-7 the rest of the quarter, regaining the lead when Bobby Portis hit a 3 to make it 85-84 with 1:28 left and stretching it to 91-85 when Jrue Holiday's short jumper beat the buzzer.
Antetokounmpo hit three inside shots early in the fourth and the Bucks sealed their latest win when Khris Middleton hit 3s on consecutive possessions for a 113-95 lead with four minutes remaining.
Antetokounmpo made 15 of 27 shots and recorded his 36th double-double of the season as former president Bill Clinton sat courtside.
Middleton added 18 while Holiday contributed 14 points and eight of Milwaukee's 32 assists. Former Net Brook Lopez chipped in 13 as the Bucks shot 49 percent.
Mikal Bridges scored 31 points, helping the Nets build a 10-point cushion early in the third before Milwaukee began its comeback. Spencer Dinwiddie added 26 but Brooklyn scored only 19 points in the fourth and dropped its third straight.
Bridges scored 11 points as the Nets led by as many as 15, forced seven turnovers and held a 34-22 lead through the opening quarter. Brooklyn withstood Antetokounmpo scoring 11 points in the second and held a 62-52 lead at halftime.
The Bucks opened the second half with a 14-4 spurt with Grayson Allen's layup forging a 66-66 tie with 8 1/2 minutes remaining. Bridges scored 10 straight points and his jumper over Antetokounmpo put Brooklyn up 76-66 with 6:47 to go.
--Field Level Media