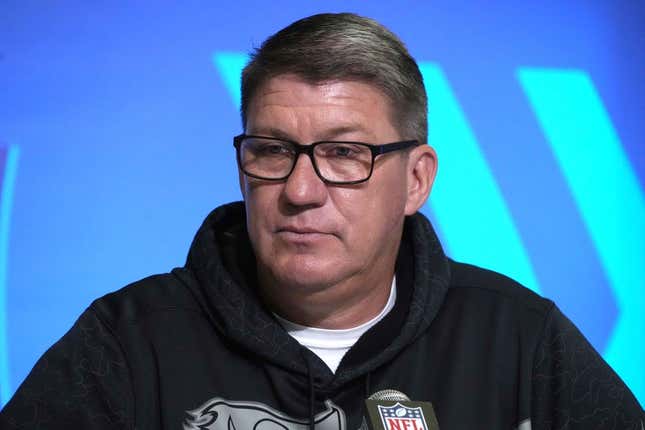 Tom Brady's retirement in February was the just the tipping point for Tampa Bay Buccaneers general manager Jason Licht to put a massive roster overhaul in motion.
How running an NFL team is like running a restaurant | Chef Emeril Lagasse
When the Bucs made their final roster cuts to 53 more than six months later, the team had gone from the oldest in the NFL to the eighth youngest. It was a necessary band-aid to tear off as Brady's retirement brought a $35 million dead-cap hit and put the franchise nearly $60 million over the cap.
The ensuing months saw the departure of numerous veterans including running back Leonard Fournette and tackle Donovan Smith, and the addition of a slew of rookies — including six undrafted players who made the initial 53-man roster last week. They team with seven rookie draft picks on the roster.
"It was challenging for us, but it was fun. It was exciting," Licht said Thursday. "Any time you challenge your staff to go find gems at the dollar store, there is kind of an excitement to it. That's what we get paid to do.
"That's how we earned our bones early, trying to kick the weeds and find guys, so it was a lot of fun for all of us."
Licht admitted the focus was not only from getting younger while also paring the salary cap, but on getting faster and more athletic throughout the roster in the process.
"We knew that there would be a lot of opportunity for new faces, but if you would've told me back in April that we'd keep six undrafted rookies, I probably would've thought you were crazy," Licht said. "But it worked out. We're excited about every single one of them. I think a lot of them are going to play big roles for us.
"It's an exciting time. Whenever you have a young team and are thinking you can compete with that young team, it's great. It worked out well for us.
"We're paying the bills right now."
Whether the Bucs can be competitive in 2023 remains to be seen. After being preseason favorites during each of Brady's three seasons, Tampa Bay is now the longshot to win the NFC South — including +750 at BetRivers and +1000 at DraftKings.
Head coach Todd Bowles spoke to the overall intelligence he sees in the team's rookie class, which he believes picked up the Bucs' system extremely quickly. He believes if players have the talent, they can play and contributing no matter the experience level.
"We have guys on the team that can play ball. Just because their names are not known doesn't mean they can't play," Bowles said. "They're just unknown at the time, but they'll be known pretty soon.
"It's up to us to get them ready and it's up to them to play, and we feel confident in that."
The Bucs face a difficult opening stretch that will likely determine realistic expectations. After opening at Minnesota, Tampa Bay will play host to Chicago and defending NFC champion Philadelphia before its first divisional game at New Orleans ahead of a Week 5 bye.
There are still veterans at key positions the Bucs will rely heavily on to get through that opening gauntlet. Among them are wide receivers Mike Evans and Chris Godwin along with quarterback Baker Mayfield, who won the job over Kyle Trask to begin the season.
"Baker was obviously better or we wouldn't have chosen him to be the starter," Licht said. "I think Baker is in a great head space right now, so I'm excited to see how this turns out."
Meanwhile, the defense will be led by linebackers Shaq Barrett, Lavonte David and Devin White along with nose tackle Vita Vea and defensive back Antoine Winfield Jr.
"I just know I like the vibe that our team has right now, I like the energy and I like how far we've gotten in the offseason as a team," Licht said. "I can't make any predictions — I just feel like our team has the DNA to want to compete against anybody."
—Field Level Media