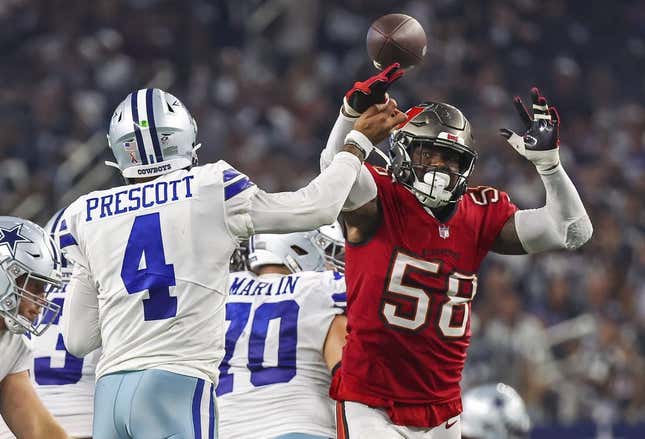 Tampa Bay Buccaneers linebacker Shaq Barrett's 2-year-old daughter died on Sunday morning after drowning in a swimming pool at the family's Tampa, Fla., home
According to a statement from the Tampa Police Department, officers arrived at the scene just before 9:30 a.m. after receiving a call that stated a child had fallen into a pool. That child was Barrett's daughter, Arrayah, who was taken to a local hospital, where she was pronounced dead following life-saving efforts by first responders.
The incident is currently under investigation, but is not presumed to be suspicious, according to Tampa police.
"Today's tragic news is heartbreaking for all members of the Buccaneers family. Our thoughts and prayers are with Shaq, Jordanna and the entire Barrett family during this unimaginably difficult time," the Buccaneers said in a statement
"While no words can provide true comfort at a time such as this, we offer our support and love as they begin to process this very profound loss of their beloved Arrayah."
Teams across the NFL extended their condolences to Shaq Barrett and his family over social media. Arrayah Barrett was the youngest of four children.
Shaq Barrett, 30, has spent the last four seasons with Tampa Bay after four seasons with the Denver Broncos. He appeared in eight games (all starts) during the 2022 campaign, recording three sacks and 31 tackles.
In 115 career games (69 starts), Shaq Barrett has totaled 54.5 sacks, 348 tackles (70 for loss) and 19 forced fumbles. He also has five fumble recoveries and two interceptions. He led the NFL with 19.5 sacks in 2019, his first season with Tampa Bay.
--Field Level Media