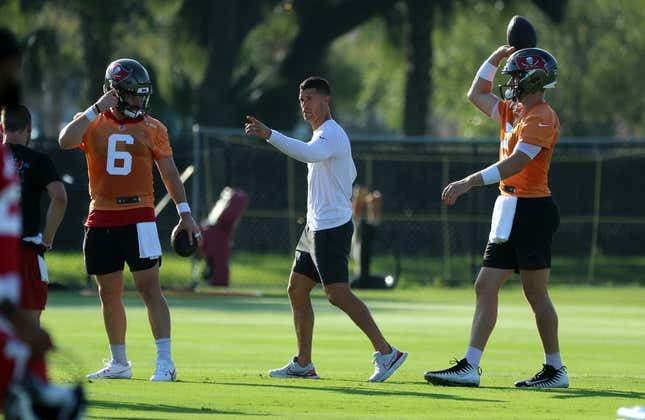 The race to replace Tom Brady as starting quarterback of the Tampa Bay Buccaneers is tightening midway through training camp
How running an NFL team is like running a restaurant | Chef Emeril Lagasse
Any edge Baker Mayfield had over Kyle Trask was largely erased with Monday and Tuesday showings by Trask, a backup to Brady in Tampa the past two seasons
"It just took a couple of days for Kyle to really settle in and then what we saw in the last two practices, Kyle really showed what he can do, stretching the field with his arm, getting the ball out quickly, and making decisions," offensive coordinator Dave Canales said
Mayfield signed as the presumed starter after making three stops in a whirlwind 2022. He was traded to the Panthers by the Browns, started the season as the No. 1 quarterback in Carolina only to be released and signed by the Los Angeles Rams
The offensive scheme is new to Mayfield but the Buccaneers also changed coordinators, from Byron Leftwich to Canales. Most of the concepts are fresh to Trask, too
"He is mastering the concepts," Canales said of Trask. "The more that he can, in a pre-snap way, gather information and really start to progress. You know in any pass concept that you have, you could have as many as three or four progressions, but you do not have time to check all three. It is kind of like a true sprinkler type of read. When guys start to play comfortable and play fast, is when they eliminate one and two, then they are getting to three and four in the same rhythm they would. That is what I am seeing from him that I am excited about. Then the other thing too is just -- what is happening with Kyle is, as I call a play, he is finishing the play -- the sentence before I can finish it. That just speaks to him studying the offense, studying the formations, and being really comfortable with what we are calling.
Canales said veteran offensive assistant Tom Moore charts and times every throw in practice. The coaches, including QB coach Thaddeus Lewis, huddle to discuss practice plans and performance as part of their plan not to name a starting quarterback in April or May
"I think what we are seeing is a couple of guys who both have to put themselves into that starter mind frame going into the practices, knowing, 'Hey, today is my day. I get to roll with the ones. I get a few more reps,'" he said. "It is pretty much even. Even with the way we go ones and twos, the way we do it. I just see the two guys really challenging each other. Then the cool part is in our room, which a lot of people don't get to see and hear, is just rule number one, we are here to help the Bucs win. Whatever that is, we do that.
Mayfield, 28, is 31-38 as a starter since being drafted with the No. 1 overall pick by Cleveland in 2018
Trask, 25, has only appeared in one game since Tampa Bay drafted him in the second round in 2021
--Field Level Medi