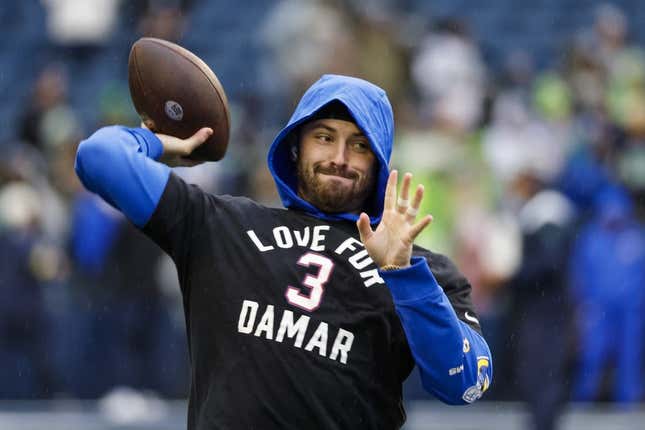 With training camp just around the corner, the Tampa Bay Buccaneers are still trying to determine who will fill Tom Brady's shoes under center
How running an NFL team is like running a restaurant | Chef Emeril Lagasse
After three seasons with the Buccaneers, Brady officially announced his retirement back in February. It looked as if Kyle Trask was going to take over starting quarterback duties after sitting behind Brady in 2022, but Tampa Bay proceeded to sign veteran Baker Mayfield to a one-year deal worth up to $8.5 million in March
Three months later, the Buccaneers still haven't named a starter
"Some time during camp or right after camp, there will be a decision made," Tampa Bay coach Todd Bowles said. "It's still a quarterback competition right now -- I'm not going to award (anybody) in shorts and t-shirts."
Mayfield, 28, will be looking to revive his career after struggling last season with the Carolina Panthers and Los Angeles Rams. He completed 60 percent of his passes for 2,163 yards with 10 touchdowns and eight interceptions.
In six starts with the Panthers and four with the Rams, Mayfield combined to go just 2-8-0.
The 25-year-old Trask, on the other hand, appeared in just one game last season, completing 3 of 9 passes for 23 yards.
Although the Buccaneers are without a starter just under three months from the regular season kicking off, Bowles isn't worried about the state of his offense
"In any competition, there's waiting involved -- you have to see who wins out and wins the competition," Bowles said. "So, we're good."
Regardless of who gets named starter, Bowles assured that they will be ready. He said that both Mayfield and Trask have been getting sufficient reps this offseason.
Whoever locks down the job will be working with a new offensive coordinator in Dave Canales, who spent a total of 13 seasons with the Seahawks under Pete Carroll. He most recently served as a quarterbacks coach but was also a wide receivers coach and passing game coordinator during his time in Seattle.
--Field Level Media