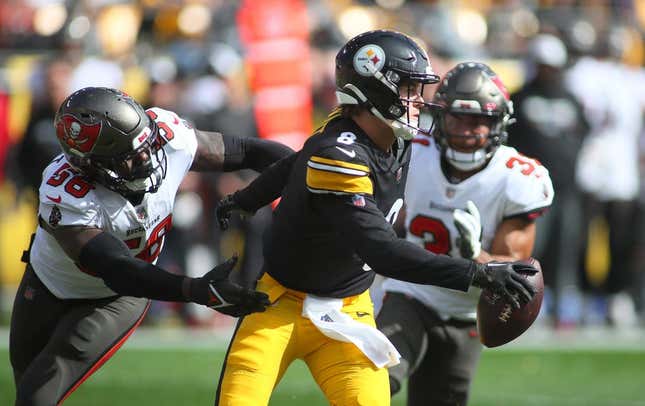 Tampa Bay Buccaneers outside linebacker Shaq Barrett admitted Monday that he is doing the best he can to keep occupied following the tragic loss of his daughter
How running an NFL team is like running a restaurant | Chef Emeril Lagasse
Barrett's 2-year-old daughter, Arrayah, drowned in the family's pool on May 1 in Tampa, Fla
"It's a daily battle, a tough battle," Barrett said in his first public comments since Arrayah's passing. "I felt it heavier today than I did the last couple of days. It just comes in waves. (Wife Jordanna and I) just talk to each other, talk through it with each other and just lean on each other to get ourselves through, and lean on the Lord, as well.
Barrett, 30, admitted that football is serving as a bit of a welcome distraction
"Yeah, because like this morning it was hitting me hard," he said. "Getting ready for practice helped me get my mind off of it a little bit just focusing on something else. I've got a lot of time in the day when I'm just in my head thinking about stuff and thinking about her. So having to actually think about what I'm doing right in the moment helps me out a lot and helps the family out a lot when we're doing stuff and trying to stay busy.
Barrett and his family will be even busier down the road, as Jordanna is pregnant with another daughter
"We know there is no replacing Arrayah. There is nothing ever in this world that can happen to replace our baby girl," Barrett said. "But us having another baby girl is a super blessing because I wanted another girl really bad. I would've been happy either way, but having another girl -- baby Allanah when she comes ... the whole situation made me nervous in general about having another kid because accidents happen, but Jordanna was telling me I can't think like that. I just have to stay strong, have faith and believe
"Once I saw the heartbeat, I started to relax a bit and the excitement took over and worry went away. I'm just excited for my family and excited in general to have a new addition to our family in February.
Barrett has spent the last four seasons with Tampa Bay after four campaigns with the Denver Broncos. He appeared in just eight games (all starts) during the 2022 campaign, recording three sacks and 31 tackles. He missed the rest of the season with a torn Achilles
In 115 career games (69 starts), Barrett has totaled 54.5 sacks, 348 tackles (70 for loss) and 19 forced fumbles. He led the NFL with 19.5 sacks in 2019, his first season with Tampa Bay
--Field Level Medi